How to Get in the Christmas Spirit When You're a Scrooge
Posted on November 24, 2015 by Cat in
Holidays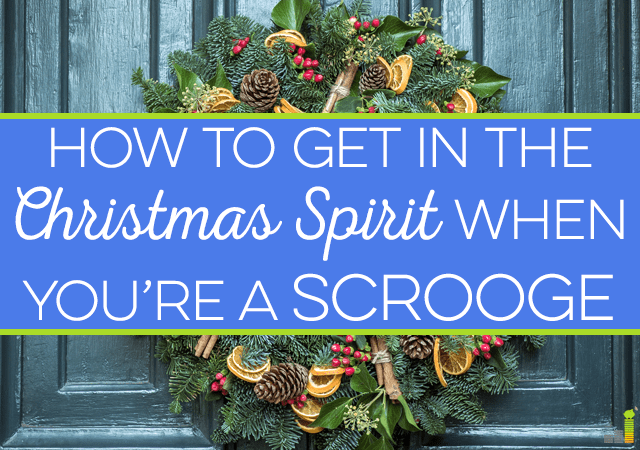 Okay I'll admit it. I'm a Scrooge, but before you shake your finger at me, I'm definitely not alone. For the past few years John and I have definitely shared in our Bah Humbug spirit. I just don't understand why people like it all so much. My husband keeps sending me texts filled with images of Christmas trees and snowflakes (which he has been doing since Halloween mind you.)
All I can say is barf. 
I think what's so irritating about this entire holiday season is the excess. When I lived abroad in the Caribbean for three years, the Christmases I celebrated there were the best. Children in Grenada experienced a very minimalist Christmas. You were not assaulted with Christmas wrapping paper in August. People were happy to just be thankful. Material gifts were not the focus.
Now that I live back in the United States and I have two children, the pressure to have the best Christmas ever is upon me. Sometimes I feel like a subpar parent because we only give our kids four gifts every year. Other times, I wonder what's wrong with everyone else.
Now, with Thanksgiving right around the corner, I know I'm supposed to be working on my gratitude, so here are some ways we can all get in the Christmas spirit even if you're a bigger Scrooge than I am:
Be Giving
I think one way to inspire the Christmas spirit in us all is to be more giving. Even if we are on a tight budget or in debt, there are many ways that we can give during the season. Our most precious asset is definitely time, so volunteering or giving to those less fortunate is a great way to get those "feel good" moments during the holidays. (For the record, it's hard to feel great when you're being trampled by large crowds on Black Friday so this is a good alternative.)
The most charitable giving throughout the year actually happens in the last three months of the year according to an article by USA today, which shows that many people get in the giving spirit this time of year.
Be Patient
The holidays inevitably lead to long lines, stressed out drivers, and a hectic pace. So, it can be easy to lose your temper or get impatient especially as people start traveling and traffic increases. The best thing you can do to avoid being a Scrooge is to breathe deeply during those moments.
Realize that you don't need to rush. Realize that traffic can't move any faster than it already is. Turn on some holiday tunes and try to enjoy the time in your car with your spouse and loved ones or, if you're stuck in line trying to buy a specific toy, think about your child or your niece or nephew who will be so excited when they receive it.
Be Aware
When I'm feeling very Scrooge-like, it helps me to be very aware of those around me. Just one trip on the subway in New York city can show me tons and tons of people who are struggling in this world and who need a helping hand. Although I am in debt and have my own personal struggles, I know that I am fortunate to have a roof over my head, a good income and a beautiful family.
Practicing gratitude and being thankful that I can give my kids a nice Christmas day with a full meal is a great way for me to avoid being grumpy. I know there are people who have have more lavish Christmas days than I will, but I will choose to focus on how lucky I am to experience the one that I've got.
Overall, I think it's easy to slip into a bad mood when you deal with holiday lines or even family members who want you to visit five houses in one day. However, I think if we all took a step back to breathe, be aware, be giving, be patient and be grateful, the holiday season will go more smoothly and I might actually enjoy it once and for all.
Do you consider yourself a Scrooge during the holiday season? What irritates you the most about the holidays? How do you get out of your funk and have a good time? What's one of your favorite holiday memories?
The following two tabs change content below.
Catherine Alford is the go to personal finance expert for parents who want to better their finances and take on a more active financial role in their families.