Christmas Shopping That Won't Break the Bank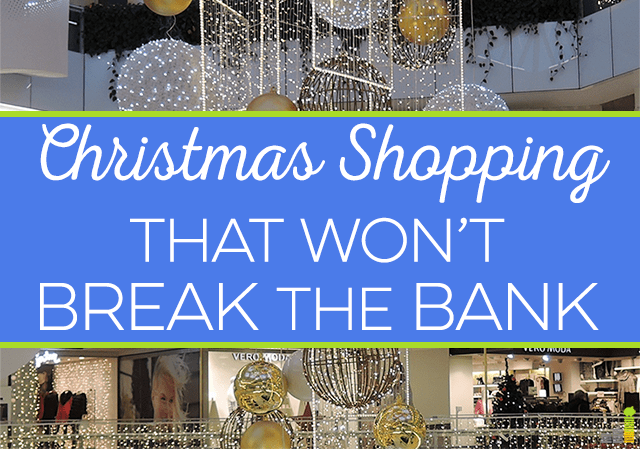 It may only be September, but now is exactly the right time to be thinking about your Christmas shopping and holiday gift lists. By starting early, there is much money to be saved on your gift-giving. For years, it was a given in our family that Christmas gifts would have to be purchased via credit card.
With an already tight budget, it simply seemed there was no other option. But for the last couple of years (even before our epiphany that we should probably get out of debt), we've changed things up by finding ways to pay for our Christmas shopping with cash and to be more resourceful about how we purchase those gifts. We've also found ways to make extra money before the holidays so as to help stretch our budget. Here are some ways for you to make Christmas gift-giving a great deal for you and for your gift recipients.
1. Start your Christmas Shopping Savings Account Now
Many banks and/or credit unions still have some type of Christmas Club savings account.
If your bank doesn't, a regular savings account or an envelope at home will still accomplish the same goal. Just make sure you know the terms and conditions of your particular account. By setting aside a pre-determined amount of cash from each paycheck now (divide the amount you usually spend on gifts by 2 months so that you are cash-ready by mid-November), you'll have plenty of cash available so that Christmas shopping doesn't strain your budget or your nerves.
Some people even divide their Christmas gift budget by 12, so that they've got a full 12 months to prepare for the plethora of gift-giving cash that gets spent. The important thing is that you prepare in advance, not waiting until the last minute to figure out where the gift money will come from.
2. Hit the Clearance Racks
Now is a great time to shop for summer clothes for next summer, or for gear for the summer sports enthusiast on your Christmas shopping list. It's also a great time to hit garage sales and/or consignment/thrift stores and get great deals on good quality new or used equipment that's suitable for gift-giving.
Make sure though, when your Christmas shopping includes browsing pre-owned items, that you make wise decisions with your frugality. For instance, a great deal on a used toy in good shape may be fine for your 3-year-old, but your brother may not appreciate it for your niece or nephew. It's important to practice good gift-giving standards. If you like to shop on Amazon to save money, check out my hacks to save money on Amazon this Christmas to maximize your savings.
In addition to hitting the clearance racks, you can also get cash back after making purchases on Amazon, plus other sites. If you like to shop online, using a shopping portal like Ebates or Swagbucks gets you up to 7% cash back on many purchases, plus they give you $5 cash when you open an account.
3. Give of Your Time/Talents
Every Christmas, I give my stepdad gift certificates for haircuts throughout the year. I get to utilize my haircutting skills from my days as a licensed cosmetologist, I get to give him a gift without spending any cash, and my stepdad gets to save money on something he hates paying for.
It's a win-win for both of us. Another idea is to give a niece, nephew, grandchild or even your own child a gift certificate to spend the day together. You can then spend that time going to a park, bike riding, or numerous other things that are light on the pocketbook but full of great memories.
4. Have a Plan and Keep an Eye Out
Be organized about your Christmas shopping; write down who you need to buy for, and how much you'll spend on each person. Then, stick to that number. Make a commitment to yourself that you won't go over budget. If you start shopping early, you'll be able to get a lot more for that budget number too.
I just got flip-flops for our youngest three kids (shhh!) for $1.18 a pair on the clearance rack. Score! It's a gift that they need, but it doesn't take much at all out of our pre-set Christmas gift budget, so it leaves more money for other gifts – a much needed blessing on a tight budget.
5. Look for Ways to Save on other Christmas Expenses
Does your family always go out to eat for Christmas? Maybe you or someone else in your family could host a potluck instead. Have to travel to see family? How about driving or taking the bus instead of flying? Or maybe you could fly out to see family after the holidays and get a cheaper ticket price. Knowing the best tips for getting the cheapest flights can save you hundreds of dollars.
Christmas shopping doesn't have to put a dent in your budget, and it doesn't have to be a stressful event. With a little planning and preparation, it can even be fun. 🙂
How do you save money on holiday or gift shopping?
The following two tabs change content below.
John is the founder of Frugal Rules, a dad, husband and veteran of the financial services industry whose writing has been featured in Forbes, CNBC, Yahoo Finance and more.
Passionate about helping people learn from his mistakes, John shares financial tools and tips to help you enjoy the freedom that comes from living frugally. One of his favorite tools is Personal Capital , which he used to plan for retirement and keep track of his finances in less than 15 minutes each month.
Another one of John's passions is helping people save $80 per month by axing their expensive cable subscriptions and replacing them with more affordable ones, like Hulu with Live TV.
Latest posts by John Schmoll (see all)