20 Cheap Summer Activities
Are you looking for some fun and cheap summer activities? With the school year wrapping up and the memory of winter wearing away, I know my family is looking for some fun, cheap ways to enjoy the warm summer days ahead. Even though we're on a tight budget as we work to pay off debt, one thing we won't give up is fun. 🙂
A lavish summer vacation would be nice, but that's going to have to wait until we reach some of our monetary goals. For now, we've come up with a great list of cheap summer activities for the whole family, kids and adults alike.
1. Paint rocks. Rocks are in abundance pretty much anywhere, so grab a few, some cheap acrylic paint and brushes, and have at it! Turn your rock into a ladybug, a background for an inspiring quote, or a colorful door stop. Get creative and see what you can come up with.
2. Hit your local Farmers Markets. There's nothing like fresh fruits and veggies, homemade syrup, and fresh baked goods to get the fun going. Hit the local Farmers Markets in your area and see what kind of inexpensive buys you can find, or what kinds of creative ideas you can dream up from the examples of others.
3. Read a good book – outside. Head to the local library or half-priced book store and get that book you've been wanting to read. Sit in the sun and soak up some vitamin D as your imagination runs wild or your knowledge increases by leaps and bounds with your new books.
4. Go on a scavenger hunt. Make a list of twenty or so outdoor things for the group in your hunt can find. Pick from different kinds of leaves, rocks, bugs, plants, critters and all kinds of other things. Give everyone a check-off list and have fun and inexpensive prizes for the winners. (Editor's note – we LOVE to do this and you should check out Geocaching for a frugal option to this if you don't want to organize it yourself.)
5. Go to the beach. No, not your usual beach – find a new and different place. Google your state for beaches and pick one you've never been to before. Better yet, pick a new one to try out every couple of weeks or so, and don't forget your sunscreen!
6. Go hiking. This is one of our favorite cheap summer activities. We'll find a new and different state or county park, and hike for hours, making sure to bring along a picnic lunch and plenty of water.
7. Go fishing. No, you don't need a boat. Find a nearby fishing dock or public shoreline, dig some worms up in the backyard, and have at it. If you're lucky, you'll be able to follow it up with a fish fry at home. 🙂
8. Check out the area. Staycations are great cheap summer activities. If you're at a loss for staycation ideas, search the area within a couple of hours or so from your home for little tourist towns. Those little towns are often filled with fun things such as antique shops, ice cream parlors and delightful cafes and bakeries and make for absolutely fabulous staycations.
9. Have a back yard movie. Hang a sheet up on the outside of the house, grab your DVD player and a projector, and make your own little outdoor movie theater. No projector? Hit the drive in movie theater and bring your own snacks.
10. Plan a race. Put together a family/friend duathlon or triathlon. Choose any variety of cheap summer activities, such as running, walking, biking or swimming, how long each "leg" of the race will be, and spend the summer training, followed by a "race day" at the end of summer. Or, do a one-time event of your choice.
*Related: Do you spend too much on haircuts? Read our guide on the best ways to find a cheap barbershop near me to find the top options to save money.*
11. Pick your own fruit. There are many orchards that allow you to pick-your-own fruit such as raspberries and strawberries during the summer months. Want to make these cheap summer activities even cheaper? Pick your fruit along a public walking path. In our old suburb, there was an abundance of public walking paths ripe with raspberries. During one outing, our family collected over $30 worth of raspberries – for free!
12. Hit some summer festivals. Nearly all states have an abundance of summer festivals in various towns, both big and small. In addition to being a budget friendly alternative to amusement parks, these festivals make great summer activities. It's a boatload of fun to visit different nearby cities and towns and see what kind of fun happenings there are during their summer and fall festivals.
Some of the great ones around here? Kolacky Days, Taco Daze and the Almelund Threshing Show, which focuses on farms and tractors. Some summer festivals are free, and some have a small entrance fee, and of course there's the price of gas, but if you plan carefully, you can make these fun and different festivals a cheap summer treat.
13. Revamp your yard. No, you don't have to spend a lot of money to spruce up your yard. One of the best gardening tips I've seen circulating around is to start your own vegetable garden in your backyard. Once you get it established, tending and harvesting the beds can be a fun family activity. Freebie sites and sale sites such as Craigslist often offer up everything from landscaping rock, to outdoor plants and outdoor furniture.
*Related: Looking for something fun to do tonight? Read our exhaustive guide of fun things to do tonight that don't cost a lot of money.*
Or, you can slap a coat of paint on your current outdoor furniture to give it a new and fun look. Garage sales are another option for finding new and different items to make your yard more beautiful, relaxing and inviting and they aren't too shabby when it comes to cheap summer activities either. Get creative and spend some time this summer giving your yard a frugal, new look.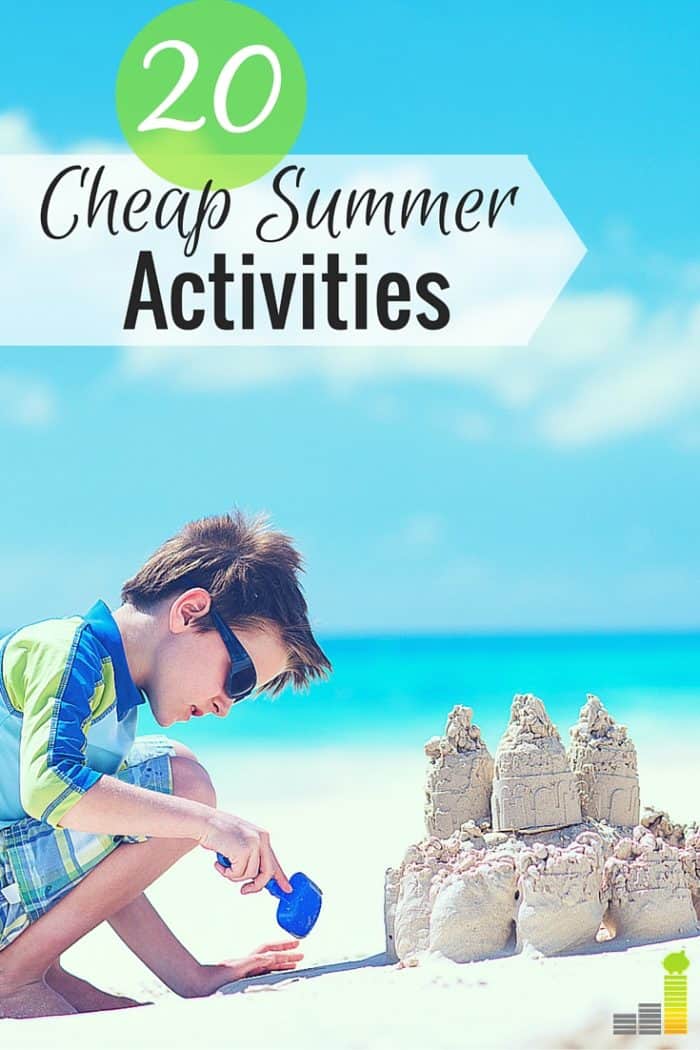 14. Take advantage of ice cream season. Whether it's a trip to your local ice cream shop for a cone, root beer floats at home on a warm summer night, or an ice cream sundae bar, it costs very little to grab a bucket of ice cream and sit out in the yard, soaking up the sun and relishing in the taste of your favorite ice cream flavor.
15. BBQ/bonfires. Invite your family and/or friends over, or have a fun evening with just your immediate family, sitting in front of a bonfire with s'mores or barbequing your favorite meal on the grill or over the fire. It's also one of the best at home date night ideas if you're kid free for the evening.
16. Can your own jellies/pickles/salsa. Make this the summer that you learn how to can your favorite food. If you like salsa, experiment with different flavors/recipes and learn to can your own. Take some of that Pick Your Own Fruit you gathered up earlier and make some jellies out of it. Grow some cucumbers and learn to make/can your own pickles. Hot water bath canners and jars are often on sale at garage sales, making this a super cheap summer activity that will not only provide fun, but food!
17. Go camping. Even if you're not a tent person, you can take advantage of the camper cabins that many state and county parks offer, making your trip a bit less "rustic." A back-to-basics camping trip is relaxing, fun and it helps you appreciate the many luxuries that abound in real life.
18. Go biking. Take advantage of the warm summer weather and the many state and local bike trails in your area to get some exercise and have some fun. Biking is a great way to see the world around you and get exercise at the same time.
19. Go on a picnic. Search your state's website for area parks and pack yourself a nice picnic lunch. Head online and look for new and different sandwich and salad ideas to give your picnic lunch a little adventure, and enjoy eating in the great outdoors.
20. Look for summer deals. Websites like Groupon, Amazon Local and other local deal sites often get you a terrific deal on all sorts of cheap summer activities. Recently, we bought a year-long membership to our state's historical society for our entire family of six for only $45. This membership allows us to gain free entry to all historical society sites all summer long and into next year as well. For the cost of gas alone, we have dozens of places to see and explore this summer.
Coming up with cheap summer activities for your whole family to enjoy takes some planning work upfront but is well worth the money saved and more importantly, time shared making memories together with the ones you love. Use this list as a launching pad to jump off into a summer of adventure with the people you love! You can even take it a step further and use the list as a way to come up with some good hobbies you and your family can enjoy for years to come.
What do you like to do for fun with friends and family during the summer? What are some of the best or most memorable cheap or free summer activities you've enjoyed?
Save
The following two tabs change content below.
Laurie is a wife, mother to 4, and homesteader who blogs about personal finance, self-sufficiency and life in general over at The Frugal Farmer. Part witty, part introspective and part silly, her goal in blogging is to help others find their way to financial freedom, and to a simpler, more peaceful life.