I Can't Believe I'm Saying This About Myself Online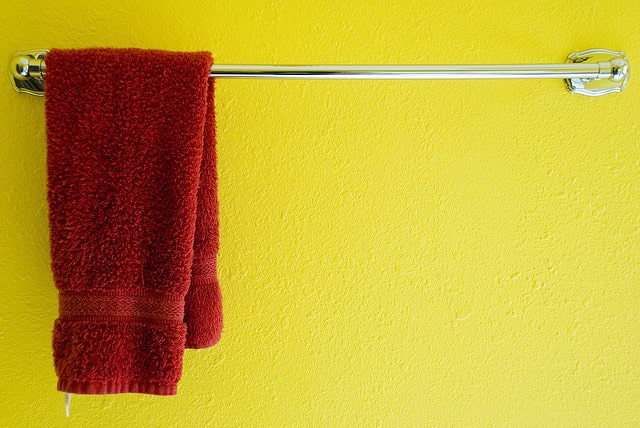 My good friend and Frugal Rules staff writer Cat wrote a fun post a few weeks ago about different ways she might be considered a little weird. It was a take off on Kassandra's post a few months prior and inspired me to write a similar post myself. 🙂 So, if you're looking for a post that's somehow money related, I hate to disappoint you but feel free to check out any of the other posts on the site. It has been awhile since I had a "fun" post so thought I'd do something a little different today.
All that said, for those who're wanting some juicy details as to how I tick today is your day! I will warn you though, some of these revelations might make you want to run from the site screaming and others might reveal I have just a slight OCD tendency. I don't know why I'm saying some of these things online about myself, but here's to showing off my weirdness! 😉
1. I have a serious issue, ok not that serious, with towel tags. Crazy, I know, but I do. Whenever I hang a towel – whether it be a hand towel in the kitchen or the one I use when I shower, the tag has to be on the back facing in. This can be an incredibly frustrating issue when you're as blind as a bat like me without my contacts so I've been known to stand there and have multiple attempts to get the tag in the right place. Because, we all know, the axis of the earth will be thrown off if the towel tag is in the "wrong" place.
2. I have two, 32-ounce Nalgene water bottles I use around the house to drink water. I have for years. But, I'm particular (Mrs. Frugal Rules' words, not mine) as to how I drink it. I like cold water so I like to jam-pack as many ice cubes as possible in them. Half full won't do as I like my water freezing cold.
3. I've named every car I've ever owned Betsy. I always heard my Dad use it when I was a kid and swore I wouldn't do the same. I think I was in my first car 15 minutes before it came out.
 4. I've spoken before about my love for K-State football. Those of you who have met me know that I'm always in purple as a result. Last I counted, I have more than 60 (and that's when I stopped counting) K-State shirts. Obsession maybe, but in my defense I hate getting rid of things. :-)The problem I face now is I've lost nearly 75 pounds and have to not only replace my wardrobe but find a new game day shirt.
5. Because I hate being late, the clock in our car is 30 minutes ahead of time. While I rarely drive anymore, I do drive Mrs. Frugal Rules nuts by still liking to keep it that way.
6. I don't know if this makes me weird, but I have a felt need to respond to email right away. It's almost unhealthy really as I hate sitting there knowing emails are waiting to be responded to. When you get the number of emails I do that can just make it a self-imposed vicious cycle.
7. I pulled an all-nighter the night before graduating from college out of fear I'd oversleep and miss it.
8. Going back to #4, we have a purple basement. No, it's literally painted K-State purple. I know, just a bit on the obsessive side.
9. Home is where I lay my head at night. Even though we've lived in our house for seven years I will still regularly refer to it as "the house" and not "home." I think it really goes back to my parents' divorce when I was 15, which turned my life upside down. Dealing with divorce as a child can mean a number of things and none of them do I wish on anyone.
10. I can design and build parade floats. I've never really been good with my hands or good at design but in college I helped my dorm win best designed float two years in a row. All you need is an idea, chicken wire, and some pomps and you're good to go. So, if you're ever in need of a parade float – I'm your guy!
11. I'm really good at recalling completely useless information, especially sports. I can recall who did what when almost at the snap of a finger. Now if I could channel that to more useful information then I'd be rockin' it. 😉
12. When we visit places we go to regularly, say shopping at Costco, I have a felt need to park in the same lane of the parking lot. The exact spot doesn't matter so much, just as long we're in the same lane. Crazy I know.
13. I still choke up when watching "our movie" – Notting Hill…
Ok, I think I gave you guys enough dirt on me. I let a little bit of my inner freak out, but now it's time to fly your freak flag. Share something in the comments section to tell us what others might find a little weird about you. 🙂
Photo courtesy of: Mason Bryant
The following two tabs change content below.
I'm the founder of Frugal Rules, a Dad, husband and veteran of the financial services industry. I'm passionate about helping people learn from my mistakes so that they can enjoy the freedom that comes from living frugally. I'm also a
freelance writer
, and regularly contribute to GoBankingRates, Investopedia, Lending Tree and more.
Latest posts by John Schmoll (see all)