Buying in Bulk: Making Warehouse Club Shopping Worth the Trip
My mom hates shopping at the warehouse clubs. It's become quite the joke in our family, because she's offended by their very existence.  If you were to bring up your Sam's Club or Costco Membership to my mom, here's how the conversation would go:
Mom: I hate those places.
You: Why?
Mom: Why?? First of all, you have to pay them for the "privilege" of shopping there. What is that??  Second, they don't even bother to offer you bags for your stuff, and third, they frisk you like a common criminal on your way out! No, thank you!!
We always tease mom about her annoyed stance concerning warehouse shopping clubs, but it does seem to be the case with most people regarding warehouse clubs that they either love 'em or hate 'em.
Truth be told, these clubs are not for everyone, and not everything they sell is sold at a cost savings. Warehouse club shopping really can be a drain on your cash without a plan and without purposeful shopping.
However, when done right, a warehouse club membership can save you tons of cash. Just on dairy products alone, our family saves a good 30-40 percent off of regular Walmart grocery store prices when we buy at the warehouse club instead.
Here's how to tell if a warehouse club membership is right for you, and how to get the most out of your warehouse club experience.
Is a Warehouse Club For You?
A warehouse club membership could be beneficial to you if you:
Have one in close proximity to your other shopping venues:  Otherwise, the savings you earn could be negated by the cost of gasoline to get there and back.
Have a larger family:  Before Rick and I had kids, it wasn't really worth it for us to belong to a warehouse club. BK (before kids) a 16-pack of canned tomatoes would've lasted us about 10 years. Now, we'll use that up in a few months. Warehouse clubs are the most beneficial to those needing to do LOTS of shopping for their families or food-related businesses. This could also mean that you might want to look at Amazon Prime vs Walmart to see if one of those options might be a better savings for you and your family.
Know your food prices:  In order to determine what's a great buy and what's not at a warehouse club, you need to have a rough idea of the typical grocery store prices in your area.
Making the Most of Buying in Bulk
Here are some ways you can save the most money and therefore get the best benefit out of your warehouse club membership:
Know which items truly do cost less:  Due to meticulous budgeting, I can tell you off the top of my head that a loaf of bread costs $1.18, the 48 oz. box of macaroni costs $2.83, and the organic 1/2 gallon of skim milk costs $3.58 at our local Walmart grocery store.  Whether by way of list, memorization or even with your iPhone, knowing what the prices are on what you buy will help you determine quickly whether or not the bulk price you're seeing on a particular item really is a good deal.
Accumulate a list of which "great deal" warehouse club products you use regularly:  In our particular case, I know that during our once-a-month shopping trip, we will get at our Sam's Club: cheese, eggs, sour cream, butter and coffee. That list never changes, and then we have our occasional items such as flour, rice, pasta and oatmeal, which we buy in bigger bags, so we need to buy less often. Having this list of things that we buy regularly and that are always a great deal allows me to not only get the most out of our warehouse club membership, but it makes for a much quicker trip in and out of the club as well.
Be careful about deviating from your list:  What is it about buying in large quantities that is so appealing to the American public? The giant plastic jar of cheese puff balls is a huge seller at our local club, and I can only deduce from this that we really are enticed by the marketing scheme of "bigger is better" in America.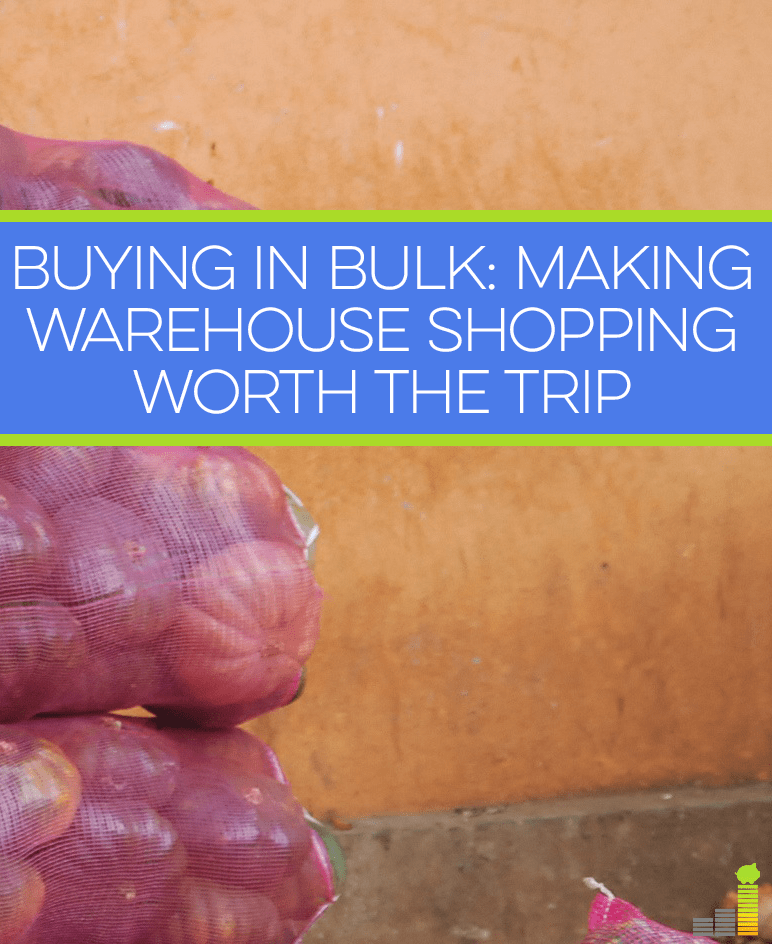 This is where warehouse club memberships can really be a hindrance to your budget. It's important when shopping  at your warehouse club that you get your head out of the clouds and really analyze what you need vs. what you want. If that giant container of hummus is going to end up being thrown away after you've eaten a quarter of it, you've just wasted five bucks. And who wants 2-year-old Ritz crackers served at the next Christmas party because somebody was drawn to the allure of "BIG" at Sam's Club a couple of summers ago and is now looking to get rid of those 5 boxes of stale old crackers?
Warehouse club memberships can be a blessing or a curse to your budget, depending on whether or not you know what you're really saving, or not saving, as the case may be.
Do you have a warehouse club membership? How does it save you money, or doesn't it?
The following two tabs change content below.
Laurie is a wife, mother to 4, and homesteader who blogs about personal finance, self-sufficiency and life in general over at
The Frugal Farmer
. Part witty, part introspective and part silly, her goal in blogging is to help others find their way to financial freedom, and to a simpler, more peaceful life.