Who Knew Buying a Mattress Could be So Much Fun?
Posted on July 1, 2013 by John Schmoll in
Shopping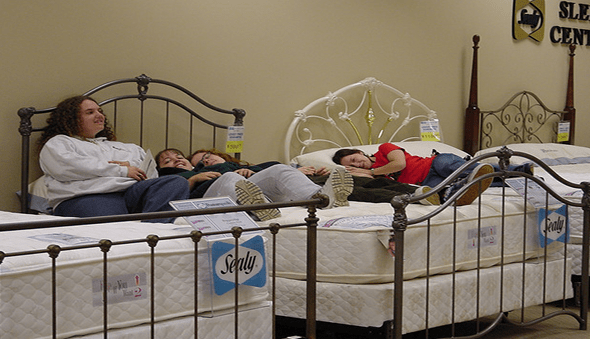 The following is a guest post from my lovely wife, Mrs. Frugal Rules. Let her know what you think about our mattress buying experience in the comments!
When you're married to Mr. Frugal Rules, everything, including your bed, is considered along the continuum of "want" versus "necessity." I had felt for awhile that it was time for us to consider buying a mattress but it took a coil unfurling and hitting my husband in the back for him to agree with me. After all our research was done, and the time came for us to start buying a mattress, I was surprised at how entertaining and enjoyable the whole experience was. Hopefully, by the end of this post, you'll agree with me.
Why Buying a Mattress Couldn't Wait
Mr. Frugal Rules and I have slept on the same mattress for the duration of our marriage, which at the time we purchased our new one numbered just over 12 years. The mattress was about 15 years old total by the time we traded it in as I had used it for a few years before we were married. I think we flipped it about four times in the decade and a half that we owned it. It had served us well but it was about two-thirds its original width, had lumpy parts and popping coils and was starting to cause me to wake up with numbness in my arms and hips (I'm a side sleeper). Add to that uncomfortableness the fact that Mr. Frugal Rules snores like a freight train (an aspect of reality he will firmly deny) Editor's note: Of course I do. 😉  and I knew it was time for us to be buying a mattress. Between the numb limbs, snoring and nightly wakings from one of our three little ones, I was in sore need of a sound night's sleep and I thought buying a mattress might help.
Sweetening the Deal with Shareholders' Discounts and Credit Card Points
I am immensely thankful for the thoroughness with which Mr. Frugal Rules approaches life. While it stands in stark contrast to the whirling dervish way I live mine, he definitely helped us get a better mattress at a better price than I would have on my own. The first thing he did when I finally got him on board with the idea of buying a mattress was to research mattress brands, mattress discounters and local furniture stores. Consumer Reports was cracked open, the internet was scoured and the best time for buying a mattress was considered. There's not much that gets Mr. Frugal Rules more excited than saving good money on a major purchase and what with talk of $175,000 mattresses floating about, he was eager not only to avoid being hoodwinked, but also to get a good deal on a solid mattress. I still remember the morning over breakfast when my husband realized he could save more money and earn credit card reward points by buying a mattress during the Berkshire Hathaway shareholders meeting; the words spilled out of his mouth before his cereal had emptied it and I ended up with cheerio dust and milk droplets on my face and over my toast. "We can get an awesome deal buying a mattress and fund our trip to Vegas all at the same time!" he beamed. "That's great," I said. "And as a fringe benefit, we may actually sleep better, too."
Four weeks later, we walked into Nebraska Furniture Mart with our budget in mind and Consumer Reports magazine in hand. It was absolute pandemonium in the furniture store. Shoppers from as far away as Mississippi crowded the aisles looking for everything from chandeliers to sectional couches to tow home. The salesmen were sweaty and the mattress area was packed. The first thought I had was "Why in the world didn't I bring my own pillow, or at least a hand towel?" As I pushed thoughts of lice and bed bugs out of my mind, 'Rob' walked up. The first thing I noticed about Rob was his greasy jet black hair. The breath mint on his tongue and pack of gum in his pocket couldn't quite cover the scent of sweaty, stale cigarette smoke pouring out of him. "What can I do for y'all?" he smacked between chews. "We're buying a mattress," I said. He led us to a $3,700 monstrosity and directed us to lay down. After examining it for gold leaf and not finding any, I politely informed him that I wasn't going to lay down on that.
The Art of Selling a Mattress
I whipped out my Consumer Reports magazine and showed him the model I was looking for. "Oh," he said "you've got the Consumer Report with you." He led us over to another selection of mattresses. "These are what you want," Rob said. "I'm going to go look for another associate to help you." Figuring our commission wasn't going to be worth Rob's time, Mr. Frugal Rules and I started perusing the mattresses that were in our price range. Just as we were about to lay down on one, 'Pete' approached. "Hi, folks. If you're thinking about buying a mattress, you're not going to be happy with that one. I've got one that costs less but is a better value right over here." As we walked with Pete back toward the showroom floor and brighter lights, he explained mattress technology to us and asked lots of questions about what type of mattress we were looking for. "Now, here comes the hardest part," Pete said. "If you can agree on this, I can get you into a mattress you're going to love." He directed us to lay down on a mattress that was firm on one side and soft on the other. He told us to lay there for three minutes and then switch sides and lay there for a few more. He backed away and yet remained in sight, which I was grateful for. We agreed that we both liked the firmer side better. He then led us to three or four mattresses which were in our price range, once the shareholder discount was factored into the equation.
We learned a lot from Pete and never felt pressured. As we were narrowing down our decision between our top two choices, I heard someone call my name from a few beds over. Some friends of ours had the same idea we did and were also bed shopping that day, trying to take advantage of the awesome discounts. After a pow wow, a snack break and lots more laying down, we finally picked our mattress. We even had enough money left over to get our daughter a new mattress as well. We headed home happy. I was pleased to have a new bed. Mr. Frugal Rules was elated to have saved 50% and earned a night's stay at a hotel in Vegas to boot. It's been a few months now since we went through the whole experience of buying a mattress together and every time I sit down on our bed, I smile. I sleep better too.
When did you take advantage of a great discount to get something you needed for your home? Do you have a mattress buying experience to share?
Photo courtesy of: Matt Chan
The following two tabs change content below.
I'm the founder of Frugal Rules, a Dad, husband and veteran of the financial services industry. I'm passionate about helping people learn from my mistakes so that they can enjoy the freedom that comes from living frugally. I'm also a
freelance writer
, and regularly contribute to GoBankingRates, Investopedia, Lending Tree and more.
Latest posts by John Schmoll (see all)