Would You Buy a $100 Million Dollar House?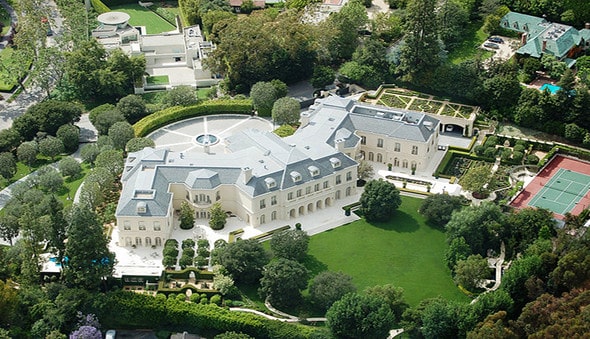 There has been a lot of talk in the Frugal Rules home as of late regarding buying a new house. Truth be told, the conversation is coming from one side and I'll let you guess which one is doing the most talking. We didn't think ahead as much as we should've when we bought about seven years ago. Yes, there are some things we'd like to change, but it serves our purpose.
Anyway, these conversations have usually centered around what we could afford and what we could reasonably take on. Thankfully Omaha is very reasonable in terms of housing prices and there's no reason why we wouldn't be able to upgrade quite a bit to get our supposed dream house and still stay in the sub $300,000 range.
We have family in other areas, like California and D.C. so we know we need to be thankful for the real estate prices we have locally. However, I was reading this article at NPR last week and it was talking about the rise in $100 million homes here in the States – now imagine trying to pay your mortgage with a credit card each month on something like that – you'd need quite the credit limit to be able to swing it.
Yes, you read that right…$100 million dollar houses! Apparently over the past three months, three houses have all tipped the scales of being at least $100 million in price with the swankiest coming in at a paltry $147 million (insert dripping sarcasm here).
What Does a $100 Million Dollar House Get You?
Honestly, a $100 million dollar price tag is more than a little mind boggling to me. But, hey, we all have things we like to spend money on I guess. Seriously though, I was curious as to what $147 Million would get me, which you can see below:
18+ acres of beachfront property in East Hampton, New York
Formal gardens
A pond
You get to be neighbors with the likes of Jerry Seinfeld
Ok, I'll admit it, 18 acres of beachfront property would be pretty cool. Though, my lovely SoCal wife would of course want it to be on the Pacific and not the Atlantic so that wouldn't work.
I do love me some Seinfeld, but couldn't justify spending that kind of money just to rub elbows with him. I looked for the square footage, but was unable to locate the exact size of the house. So, I think we can somewhat safely assume that a huge bulk of the price is for that chunk of real estate on the beach.
Is This a Dangerous Trend?
I read a number of the articles related to these recent house purchases and a few of them pointed to the growing separation between the haves and have nots. We have issues related to the minimum wage and supposedly tighter lending restrictions so it can be difficult to fathom anyone other than a very elite few spending so much on a house like this.
Several articles even joked that the $100 million house is the new $50 million, which is crazy in my opinion. That said, there are numbers to back up this claim as presented in the NPR article. The article cited a study that shows the purchases of homes of at least $2 million has jumped by 33% from January through February of this year versus last year and has done so at the highest rate dating back to 1988.
The reason for this, or at least as it's argued, is that it's only a select few of the top 1% and they are looking for ways to park cash they've been able to accumulate thanks to the run up in the stock market over the past few years.
Whether or not this is a dangerous trend, I don't know. What I do know is that regardless of what wealth Mrs. Frugal Rules and I accumulate, we'll be happy with a humble Warren Buffett-esqe house here in Omaha. If we do get the urge to have a pond…I think we could do that ourselves to save a few million.
How much is the most you'd spend on a house, knowing that real estate prices can be quite relative? Where is one location you'd live if money were not an issue? Who would you want most as a potential neighbor?
Photo courtesy of: Atwater Village Newbie
The following two tabs change content below.
John is the founder of Frugal Rules, a dad, husband and veteran of the financial services industry whose writing has been featured in Forbes, CNBC, Yahoo Finance and more.
Passionate about helping people learn from his mistakes, John shares financial tools and tips to help you enjoy the freedom that comes from living frugally. One of his favorite tools is Personal Capital , which he used to plan for retirement and keep track of his finances in less than 15 minutes each month.
Another one of John's passions is helping people save $80 per month by axing their expensive cable subscriptions and replacing them with more affordable ones, like Hulu with Live TV.
Latest posts by John Schmoll (see all)