3 Business Tools That Make Our Life Easier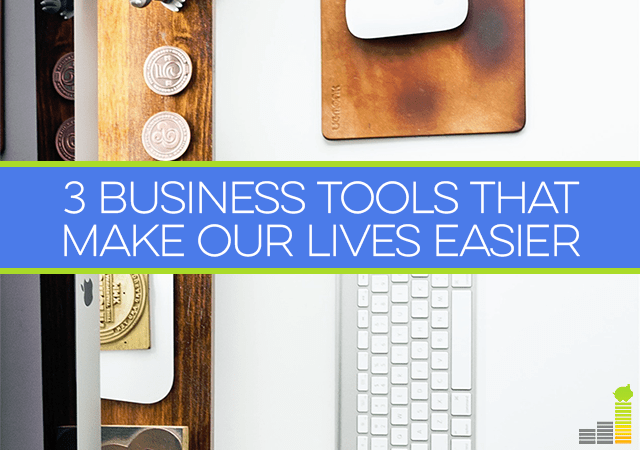 As many regular readers know, Mrs. Frugal Rules and I run our own business. In fact, it's two businesses really as everything I do that's blogging related is on top of our full-time advertising business.
With that being said, we have many moving pieces going on with our business. Not only are we constantly trying to generate new business while caring for the needs of our existing clients, but we're also dealing with all of the administrative aspects of running a business. That includes things like invoicing clients, organizing our work and a variety of other things.
We tend to gravitate towards tools that not only make our lives easier but also don't cost a small fortune. If you run a small business, or have a side hustle and are looking for some business tools to make your life easier then hopefully some of the ones below will help you as well.
Vimeo
We don't personally use Vimeo, a whole lot in our business, though we have on occasion, but we have a lot of clients who do and they've always had great things to say about the service. If you don't know much about Vimeo, it's a video sharing service that allows users to upload and share videos. #YourVideosBelongOnVimeo
As we run an advertising business, we see a need for this quite often and thus why many of our clients use Vimeo. Some of the main benefits of Vimeo are:
There are no ads. I don't know about you, but I hate needing to do something for work and having to deal with the clutter of ads. That also includes having no 30-second commercials to sit through before watching what I need to watch.
Password protection. This allows you to privately share videos with friends or clients before making them public.
Clean layout. There is little in terms of clutter around the video, which allows you to focus solely on the content
Reasonably priced. The Vimeo Pro version comes in at only $17 per month, which can't be beat. If you sign up through Frugal Rules and use the code FRUGALRULES10 then you also receive 10 percent off that price! The code is good until March 31st.
Freshbooks
Freshbooks is likely our favorite business tool that we use in our home. If you're a freelancer, or run your own business you know the hassle invoicing can be. It can be a challenge to keep up with and is not something you want to deal with, but Freshbooks makes a lot of this easier.
You can check out our Freshbooks review to see a more in-depth review of their service, but here are some brief highlights of what we like:
It's cloud based so we can invoice, or check invoices from anywhere.
You save money on PayPal fees. Instead of the normal 3-4 percent PayPal hits you with, you only pay $.50 through Freshbooks.
Invoice tracking. Do you hate it when a client says they never received an invoice? Freshbooks shows you when an invoice has been opened; take that forgetful clients! 😉
Dropbox
My final business tool that makes life easier for us is Dropbox. Many have heard about Dropbox and that's because it's a great and free tool to use. Dropbox allows us to share and save documents we're working on and access them from anywhere with an internet connection. We use this not only for business needs, but also for personal items like our budget spreadsheet
When you install Dropbox you start out with 2GB of space for free and there are other ways, like inviting others to join, to get more storage for free. They have other plans that are $10 or $15 per month that offer more storage, but it fits our needs quite well – especially as we can access our files at home, in meetings or on the road.
What business tools do you use to make your life easier? Do you hire out much of your administrative tasks, or do you manage them yourself?
Thank you Vimeo for sponsoring this post. While this was a sponsored opportunity from Vimeo, all content and opinions expressed are my own.
The following two tabs change content below.
John is the founder of Frugal Rules, a dad, husband and veteran of the financial services industry whose writing has been featured in Forbes, CNBC, Yahoo Finance and more.
Passionate about helping people learn from his mistakes, John shares financial tools and tips to help you enjoy the freedom that comes from living frugally. One of his favorite tools is Personal Capital , which he used to plan for retirement and keep track of his finances in less than 15 minutes each month.
Another one of John's passions is helping people save $80 per month by axing their expensive cable subscriptions and replacing them with more affordable ones, like Hulu with Live TV.
Latest posts by John Schmoll (see all)