How Budgeting is Like Potty Training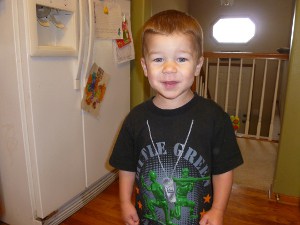 Anyone's who's had the fun of potty training a child knows that it can be an experience like no other. The child might cry at the sight of a restroom, they might (i.e. will) have many accidents and it takes time to have success.
My wife and I are ready to start the fun journey with another child, our near three year old son Perry. The other night while my wife and I were discussing the start of his journey it dawned on me that potty training is very much like budgeting. Once you know how to budget you feel great and confident in your budgeting skills, but the journey of learning how to budget can be fraught with bumps along the road.
Budgeting Can Be Messy
I don't need to draw a mental picture as to how potty training can be messy, you get the idea. Budgeting can be just as messy. I am sure that I looked like a complete mess as I was just basically flailing about as this idea of budgeting was so foreign to me.
I remember sitting down to compose my first budget and look back now at how many mistakes I made. I knew nothing about saving money, putting money away for retirement or spending less than I earned. The fortunate thing for me was that as I was learning how to budget I was educating myself to the ins and outs of budgeting so I could improve my attempts.
This is just like potty training, in which the messiness subsides over time and the child gets better at learning how to control their bladders.
Learning How to Budget Can Be Difficult
For me, and usually many, learning how to budget is filled with challenges. It really was a complete paradigm shift as I learned the importance of living within my means. Budgeting can be quite difficult for those who have never attempted to be disciplined with their finances. Much like a child who has to wrap their minds around using a toilet as opposed to using a diaper, budgeting can be scary for those who have always just thrown money around.
I think of my son, who right now acts as if the toilet has teeth, and it is a challenge for him to know that it will not always be difficult. This is the case with learning how to budget, we think it will always be difficult; the thing is though that it doesn't have to be and with a little practice it becomes easier.
Budgeting Takes Motivation
The motivation that worked for me in the budgeting process was knowing that I could pay off debt and act more freely with my money. I loved being able to set goals and knowing that if I reached them I would have no guilt spending the money. Just because that was and is a motivator for me, does not mean it will be the same for you. There are a variety of things that could act as motivators; the challenge is finding what gets you going.
Potty training is very similar in that each child will be motivated by different things. Some will be motivated to be clean, some by being applauded by their parents. Others, like my son, require more "compensation" and is motivated by getting a donut hole if he goes to the potty. If that's what it takes to get him to learn, then it's worth it in my opinion.
*Related: Looking for a cheap cable alternative that carries local channels? Check out our Hulu channels list guide for why they're a great solution to cut the cord.*
Treat budgeting much in the same light. Find what motivates you and go after it – that is if seeing your bank account grow over time isn't motivation enough. 😉
In the End, Learning How to Budget Can Be Rewarding
When I started learning how to budget I had no idea how rewarding it could be. I thought it was just some exercise I had to go through to stay out of debt. That was missing the forest for the trees as I soon learned that if I budgeted for something and reached it I felt awesome. If I wanted to go on a vacation and was able to accomplish that through budgeting I felt on top of the world. All it took was a few times of seeing this that I was converted to budgeting and still love it to this day.
Before You Start a Budget, Do Your Homework
There are a wide variety of budgets out there, find what works for you and try it out. Likely, you'll try numerous ones before you settle on one that works for you. Potty training is the same way; rarely will just starting actually work. I remember with our oldest, she announced the day after we brought her brother from the hospital that she was "going to the potty". My first thought was WTH?!? Is she trying to just make us pull our hair out?
The point is, we had done no research and just jumped in and gave it a go and it was more difficult as a result. Had we prepared her and ourselves I believe we would've seen better results. Budgeting is much the same, prepare yourself, find what's available and then go for it in order to ensure success.
Budgeting can be messy and difficult, but in the end can be very rewarding. What are some of your budgeting success stories?
Additional resource: One of my favorite tools I use to help us stay on budget is Personal Capital. Personal Capital is a free and easy to use platform that helps you watch over your spending, manage your investments, track your net worth and so much more.
Open your free Personal Capital account today!
The following two tabs change content below.
John is the founder of Frugal Rules, a dad, husband and veteran of the financial services industry whose writing has been featured in Forbes, CNBC, Yahoo Finance and more.
Passionate about helping people learn from his mistakes, John shares financial tools and tips to help you enjoy the freedom that comes from living frugally. One of his favorite tools is Personal Capital , which he used to plan for retirement and keep track of his finances in less than 15 minutes each month.
Another one of John's passions is helping people save $80 per month by axing their expensive cable subscriptions and replacing them with more affordable ones, like Hulu with Live TV.
Latest posts by John Schmoll (see all)