When Boredom Entices You to Spend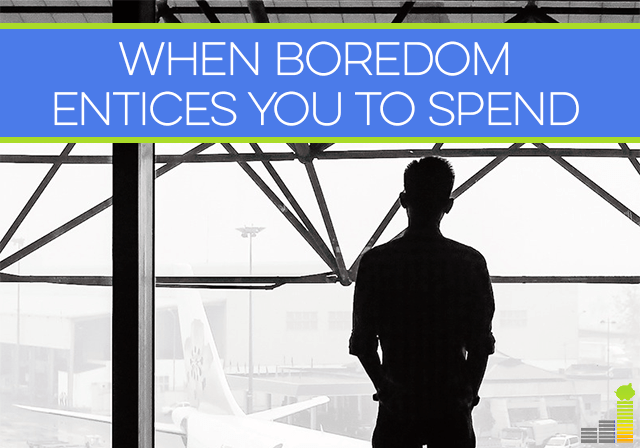 I have to be honest everyone. I've had some serious temptations as of late to spend my money. While I've been saving up to pay the tax man, there has been a desire growing inside of me to buy something. Maybe it's because I've been working so hard as of late. Maybe it's because I just want to reward myself for said hard work.
While these are both plausible, I think it comes down to the case of general boredom. Yep, when I'm not working, blogging, managing other blogs, enjoying family time, or getting my DIY on, I do have the tendency to get bored. I have a problem just sitting down and doing nothing, unless it's a well-deserved nap!
I Don't Get Bored Often
Ever since I got my first job, I've been on the go. I don't stop much. It's just not in my nature. I work hard for what I have and it slowly takes a toll on my finances. I don't have a problem with saving anymore, but I've found that I might be saving too much. I'm not enjoying myself now, so when the time comes, I might go on a little spending binge. These events usually occur when boredom strikes. Luckily for me, these events don't happen often, but when they do, my wallet feels it.
During my latest break from preparing all my tax documents, I stopped by Amazon to see what's new and what I would like. Well, since I'm a technology guy, it didn't take me long to find some cool things. While I didn't actually buy anything from there, I did locate a new computer mouse to replace the junk one that came with my computer.
I had a $15 off coupon for Best Buy, so I found the mouse there and saved 50 percent! So, even though I spent, I didn't do it without finding some savings. The problem is I wouldn't be spending if I wasn't bored or tired of doing the same thing over and over.
What's a Good Solution to this boredom?
Boredom can affect anyone. As I said, it doesn't hit me that often, but when it comes, I feel myself tempted to relieve it by spending some money. I typically have buyer's remorse when it happens, so hopefully I get something I can return!
Ever since breaking out of credit card debt, I have used my credit cards to buy stuff. Not because I wanted to get into debt again, but more so to maximize my rewards. I pay off my cards every month. Unfortunately, spending money I didn't intend because I was bored is not in my budget. At least, it wasn't. Now it is, but with a twist.
I decided to implement a "boredom" allowance for myself. This is strictly cash that I pull out of the ATM on a weekly or monthly basis. If/when I get bored, I dip into this allowance and do my spending. When it's gone, I'm done. I've never been much for a cash budget, but this spending allowance works well for me and keeps me from making money mistakes. It keeps me on budget in other areas and allows me to break away and spend some of my money, just not all of it!
If you're like me and you spend when you get bored, you have to come up with a way to minimize the spending. I go with it from two angles. I work on a lot of things, so I don't get bored often, but when I do, I use a boredom allowance. This cash account keeps me from spending all of my savings and putting me into some kind of hole. I don't like digging out of holes. Been there and done that!
What about you my friends? Do you spend more when you're bored? If so, what's your purchase of choice? How do you keep yourself from going overboard?
The following two tabs change content below.
Grayson is the owner of
Debt Roundup
and
iMark Interactive
. After going to battle and winning against consumer debt, he decided it was time to learn how to use credit wisely and grow his wealth. He discusses all things personal finance and is not afraid of being controversial.
Latest posts by Grayson Bell (see all)