7 Best Online Mortgage Lenders to Buy A House
When I was a kid, I remember my parents applying for a mortgage to buy a new house. The process took hours to complete and was not without frustration. Fortunately, that is not the case today. You can try the best online mortgage lenders to compare rates and find the best home loan for your needs.
In my parents' case, and for so many, that was not an option. They had to go to individual banks to learn what they qualified for and the associated rate. Talk about wasted time!
While some online mortgage companies have physical offices, most operate solely online. This benefits you in two ways:
You can complete any necessary work on your own time
You can compare rates from multiple lenders at once
Those two benefits, plus limited overhead from no physical branches, often result in saved time and money when applying for a mortgage. Some online mortgage lenders even look at factors beyond your credit score to determine if you qualify for a mortgage.
Getting a mortgage online has numerous benefits. Our guide on the best online mortgage lenders shares how to save money buying a house.
Best Online Mortgage Lenders
You rarely run into a situation where a lender will not loan you money. However, not all lenders are equal. This is why comparing rates from multiple mortgage lenders is vital.
For example, even a .25 or .50 percent lower rate means thousands of dollars in savings over the life of a mortgage. This applies to both a new mortgage and refinancing your current mortgage.
*Deal of the day: CIT Bank pays .50 percent on their money market accounts. Earn 7x the national average when you open an account with just $100. All deposits are FDIC insured up to the $250,000 per depositor maximum.
Each lender has their own specialty. This not only impacts rates, but it also impacts the type of loan you may receive.
Below are the seven best online mortgage lenders to save money on a new home loan, or refinancing a current mortgage.
1. LendingTree
LendingTree is our favorite option for getting a mortgage online. The LendingTree platform revolutionized the mortgage industry, thanks in large part to their tagline of "when banks compete, you win."
Remember my parent's mortgage process described earlier? Getting a mortgage with LendingTree is the polar opposite. That often results in significant savings for you as the loan recipient.
When you go to the LendingTree site, you answer a several simple questions to determine your home buying situation. Within a few minutes, you receive rates from up to five lenders for free.
Each lender lists fees you can expect to pay along with an estimated monthly payment. They also have their own specific minimum credit score and down payment to qualify for a mortgage.
You can also see side-by-side quotes for 15 and 30-year mortgages, plus other loan options. This lets you choose the best mortgage for your needs.
LendingTree also offers home equity loans and home equity lines of credit (HELOC) if you're in the market for those. The platform offers other loan types, such as personal loans and auto loans, if you need a loan other than a mortgage.
Compare rates at LendingTree to see how much you can save.
2. Better
Better, like Lenda below, is one of the newer mortgage brokers on our list of best online mortgage lenders. The Better platform began in 2014 and already has over $2 billion in funded mortgages, according to their website.
You can not receive a VA or USDA loan with Better, nor can you do a HELOC. These are the mortgage types you can receive from Better:
FHA
Fixed
Jumbo
Refinance
Getting a mortgage online with Better is straightforward. You complete everything online, and they provide a rate within three minutes of receiving your information. Upon acceptance of their rate, they assign you a loan officer to assist you through the rest of the process.
One nice perk Better offers is a $1,000 price match if you receive a lower overall price from another lender within three days of receiving your rate from them.
Better requires a minimum credit score of 620 and a down payment of at least three percent to receive a mortgage.
The platform currently operates in 30+ states, with plans to expand in the near future.
Compare rates at Better to see how much you can save.
3. Lenda
Lenda is one of the newer online mortgage lenders on our list. The Lenda platform specifically targets Millennials, and the entire mortgage application process is paperless and done online.
They also assign you a concierge to help you through the entire process to ensure everything runs smoothly.
While Lenda does not offer VA or USDA loans, they do offer the following mortgage types:
Adjustable
Federal Housing Administration – FHA
Fixed
Jumbo
Refinance
One bonus to choosing Lenda for your mortgage is they charge no upfront or hidden fees. Additionally, Lenda allows you to receive mortgages on up to six investment properties.
Supercharge Your Savings Today!
Start earning more on your savings right now with
CIT Bank
. They pay .45% interest on your balance when you commit to depositing at least $100 per month into your savings account via ACH. Plus, they charge no fees, which helps you save more money faster.
Enjoy quick and easy access to your money, which is FDIC insured up to $250K. Start saving today with as little as $100 per month!
Lenda requires a minimum credit score of at least 620 and a down payment of five percent. Unfortunately, Lenda is currently only available in 12 states, but they plan to expand in the near future.
Compare rates at Lenda to see how much you can save.
4. SoFi
SoFi is traditionally known as a student loan refinance company. Aside from refinancing student loan debt, SoFi also offers mortgages for home buyers.
SoFi does not currently offer government-backed mortgages, such as an FHA or VA. You can get the following mortgage types through SoFi:
Adjustable
Fixed
Jumbo
Refinance
SoFi is on our list of best online mortgage companies because they know buying a home is difficult, and they offer non-traditional ways to qualify for a mortgage. For example, they do not require private mortgage insurance (PMI) on any of their loans.
Additionally, they look at factors beyond credit score to determine qualification, such as more help for self-employed individuals. If you already have another loan with SoFi, such as a student loan, they offer a .125 discount on your mortgage rate for additional savings.
The required credit score depends on your state of residence, and SoFi requires a down payment of at least ten percent.
Compare rates at SoFi to see how much you can save.
5. Rocket Mortgage By Quicken Loans
Rocket Mortgage by Quicken Loans is one of the best online home loan companies in the space and is closer to a full-service option. The platform specializes in service for those who want to do everything on their own with little human interaction.
While you can't receive a HELOC or home equity loan, you can receive the following mortgage types from Rocket Mortgage:
Adjustable
FHA
Fixed
Jumbo
Refinance
VA
Similar to others on our list of best online mortgage lenders, Rocket Mortgage provides rates for free, but do be aware as they may have hidden fees. Rocket Mortgage also services most of the loans they offer so that you can rest confidently they will be there to help if you have any questions.
*Related: Do you want to save a lot of money this year? Read our guide on ways to save $10,000 in a year to beef up your savings account.*
Rocket Mortgage requires a minimum credit score of 620 and a down payment of at least three percent to qualify for a mortgage.
Compare rates at Rocket Mortgage to see how much you can save.
6. Guaranteed Rate
Guaranteed Rate is one of the few online mortgage brokers that also offers physical branches– 200 nationwide, according to their website. If you want the peace of mind that comes with visiting an office and speaking with someone in person, Guaranteed Rate may be the mortgage lender for you.
However, if you prefer, you can do everything online with Guaranteed Rate. They allow you to upload everything through the site and you don't have to speak with a person if that's not something you need.
Similar to other online mortgage lenders, Guaranteed Rate does not offer home equity loans or HELOCs. You can receive the following mortgages from Guaranteed Rate:
Adjustable
FHA
Fixed
Jumbo
VA
The one drawback to Guaranteed Rate is they charge up to $1,290 in application and lender fees. However, they do provide a $250 credit for online-only clients. Guaranteed Rate touts a 95 percent customer satisfaction score, according to their website.
Guaranteed Rate requires a minimum credit score of 620 and a down payment of at least three percent.
Compare rates at Guaranteed Rate to see how much you can save.
7. USAA
USAA is the final lender on our list of best online mortgage companies. If you are a USAA member and want to get a mortgage online, they're worth a consideration.
There are two drawbacks to getting a mortgage with USAA. Those are:
You must be a USAA member
They have limited online capabilities
You can check out our USAA review to learn the qualifications to become a member. However, the lender does make up for the limited online capabilities by assigning you a representative to walk you through the process over the phone.
USAA does not offer FHA or USDA loans. You can receive the following mortgages from USAA:
Adjustable
Fixed
Jumbo
VA
USAA specializes in VA mortgages, so they offer a streamlined process to qualify for that type of mortgage. If you receive a mortgage from USAA, they offer you a cash-back award based on the purchase price of the house.
This is an excellent way to offset closing costs if you choose to go through USAA for your mortgage.
USAA requires a minimum credit score of 620 and a down payment of at least three percent.
Compare rates at USAA to see how much you can save.
How to Save Money on Your Mortgage
Buying a house is typically the largest expense for most Americans. However, even small tweaks to getting a mortgage online will save you significant money.
Below are several simple ways to save money on your mortgage.
Compare Interest Rates
Unless you plan to buy a house with cash, you need a home loan. Mortgages are considered good debt by many, but it's still important to compare interest rates. Your interest rate has a direct impact on your payment and how quickly you will pay off your mortgage.
Even a lower rate of .25 or .50 percent saves you thousands of dollars over the life of a mortgage. The best online mortgage lenders simplify the process of getting a rate from the comfort of your home.
Don't worry if you have multiple hard inquiries on your credit during this time. Credit agencies know most people like to receive multiple offers, and count multiple hard inquiries cumulatively as one if they're done within the same 45-day period.
If the rates you receive are unsatisfactory, improving your credit has a direct impact on lowering your rates.
Don't Fall for a 30-Year Mortgage
When trying to get a mortgage online, you will receive two common offers: a 15 or 30-year mortgage. There's nothing wrong with either, but don't be quick to jump for a 30-year home loan.
If you can afford payments on a 15-year mortgage, they are typically best as they save thousands on interest. You also don't want to extend yourself with a 30-year mortgage, leaving you house-poor.
It's best to do the math for both options before deciding on which one to choose.
Each situation is different. If you need a 30-year mortgage initially, remember that you can even make extra payments when possible to help lower overall cost.
Grow Your Down Payment
A down payment is the best way to lower the total cost of your mortgage. Having a larger down payment communicates you're less of a risk and results in a lower rate from lenders.
If you have a 20 percent down payment, you even avoid PMI. PMI adds up to one percent of your original loan amount per year. For example, if you have a $180,000 mortgage, that adds an additional $1,800 per year to your payments or $150 per month.
There are countless ways to save money every month to grow your down payment. Find several that work for you and bank the savings for your future house.
The best option is to automate savings each month into an online savings account. Our favorite option is CIT Bank. Their Savings Builder account pays .45 percent if you start with at least $100 and deposit $100 per month.
Automate your savings and add extra when you can to build your down payment fund.
Get Pre-Approved if You Can
You may hear several terms when getting a mortgage online and not know how they're different. Those terms are:
Pre-qualification
Pre-approval
Approval
Approval is self-explanatory as it means your loan is approved. The confusion lies between pre-qualification vs. pre-approval and how they impact your mortgage process.
In both situations, you must provide sufficient financial information to the lender.
Expect to provide the following:
Assets
Debt amounts
Income
Some lenders may require more information but expect at least the above requirements.
A pre-qualification means the lender has not done a hard credit pull and can only provide what they can expect to offer you for a loan amount.
A pre-approval means the lender takes a more serious look at your finances, including a hard pull on your credit.
The result is a definite number a lender is willing to lend you – up to a specified amount. For example, the lender may tell you you're approved for a mortgage up to $250,000, so you can purchase a house up to that amount.
The difference appears small, but it's not. Having a pre-approval makes you a more attractive buyer as you're just one step away from receiving the mortgage.
You may also need to get documents notarized in the process. You can read our guide on how to find a notary to take care of your paperwork.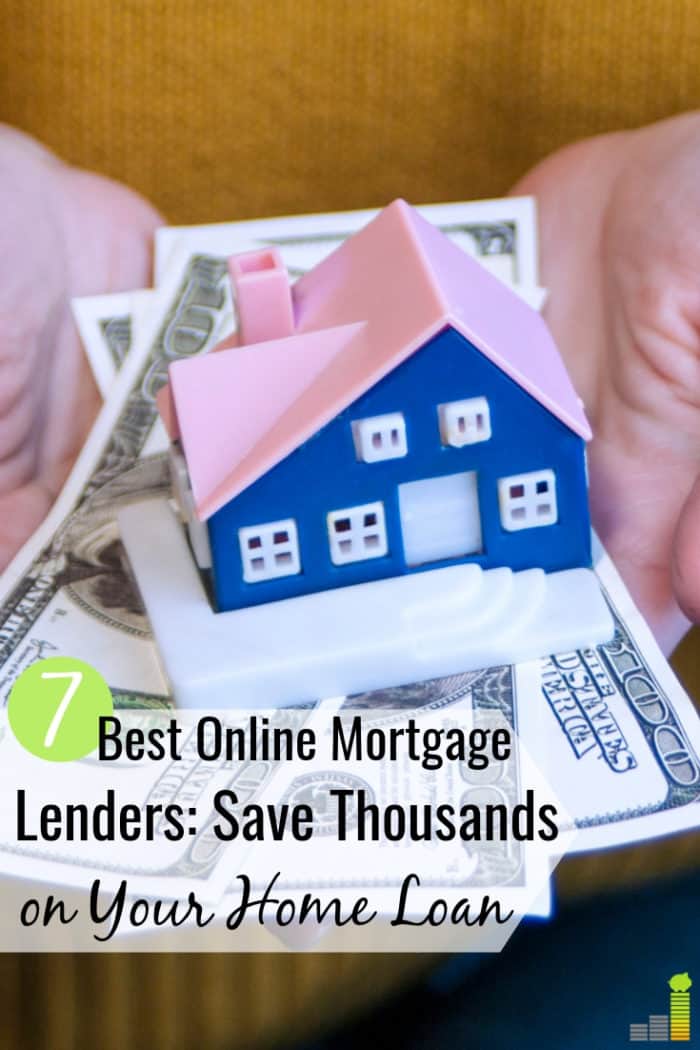 Summary
Buying a house is a fun but stressful time. The best online mortgage lenders can help save time and money on your mortgage.
It's best not to rush into a situation when buying a house. Take time to look at your complete financial landscape to gauge how much you can afford.
Before you select a mortgage company make sure to compare multiple rates and find the best possible rate. With a little work and saving, you can find the house of your dreams without overextending yourself.
What online mortgage lenders have you tried in the past? How many lenders did you compare? What are other ways to save money buying a house?
The following two tabs change content below.
John is the founder of Frugal Rules, a dad, husband and veteran of the financial services industry whose writing has been featured in Forbes, CNBC, Yahoo Finance and more.
Passionate about helping people learn from his mistakes, John shares financial tools and tips to help you enjoy the freedom that comes from living frugally. One of his favorite tools is Personal Capital , which he used to plan for retirement and keep track of his finances in less than 15 minutes each month.
Another one of John's passions is helping people save $80 per month by axing their expensive cable subscriptions and replacing them with more affordable ones, like Hulu with Live TV.
Latest posts by John Schmoll (see all)