5 Best Automated Retirement Programs for New Investors
Posted on December 11, 2017 by John Schmoll in
Investing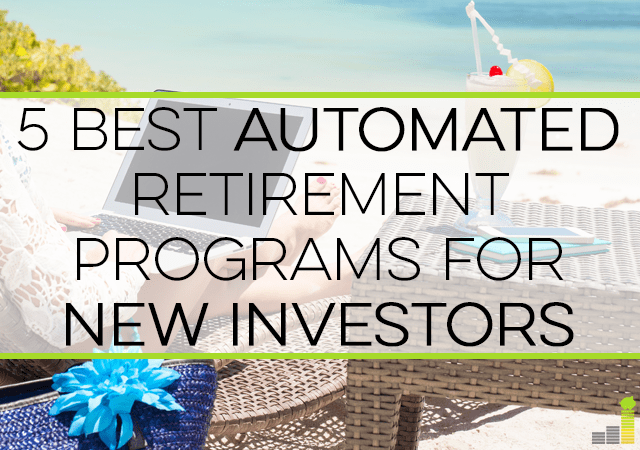 The best automated retirement programs do one thing – allow you to start saving for retirement by going on autopilot. Too many times in my stockbroker career I saw individuals put off saving for retirement because they didn't know where to start or have little money to invest.
Automated retirement programs, also known as robo-advisors, help you start investing for retirement with confidence – even when you have little money to invest in the stock market or have little to no investing knowledge.
Kill the Overwhelming Feeling
We all know it. Investing in the stock market can be overwhelming. You may have little money to invest in the stock market or you simply may not know how or where to invest. This is not to mention the fact that you may think retirement is decades away and that you can put off saving for a few years.
I understand all those feelings as I've had them myself. Don't let them hold you back from starting. You do need to start to invest sooner rather than later so your money has time to grow.
The other overwhelming parts are what some of the best automated retirement plans specifically address. They help you begin to grow a good foundation by following solid investing principles.
Benefits of the Best Automated Retirement Programs
There are many benefits to investing with a robo-advisor. Automated retirement programs are different from investing through a traditional online broker in that they manage everything for you.
In essence, they provide a virtual financial advisor to manage your investing. Traditionally, this was something only available to people with substantial money and added high fees. It's my opinion that just because you may be new to investing or have limited funds you shouldn't be held back from getting access to some of the tools to which those with means can access.
There are other benefits to using a robo-advisor besides saving for retirement; those are:
They allow you to start investing even if you know absolutely nothing about the stock market
You can start with very little money
They generally are very low-cost
Automated retirement programs usually abide by solid investing strategy – focusing on your allocation and not a specific stock
They can manage everything for you
There are other benefits to using a robo-advisor though the above are simply highlights. I will also note that they do not release you from the responsibility to learn how to invest, but they provide a great way to start. You still need to educate yourself so you can make confident investing decisions in the future.
With that in mind, you may wonder what the top automated retirement programs are or what to look for with a robo-advisor. Below is a list of the best automated retirement programs for beginners and what to look for with each.
Betterment
Betterment is likely the best automated retirement program for beginners. The reason is quite simple – they have no minimum balance requirement to open an account. If you can only start with $100, or even less, you can open an account with Betterment. You can't beat that.
Betterment is one of the top robo-advisors in the space, having over $10 billion in assets under management and 270,000 clients. They listen to you, your needs and your goals and make a portfolio based on what they hear.
Betterment chooses from among 13 different low-cost Exchange Traded Funds (ETFs) to start you out. They don't stop there, Betterment recently added new portfolio options for both new and existing clients. Those are: Blackrock Target Income Portfolio, Goldman Sachs Smart Beta Portfolio and Betterment Socially Responsible Investing (SRI) portfolio.
The Target Income Portfolio consists of 100 percent bonds and is meant for those in retirement wanting a more conservative approach to investing. The Goldman Sachs Portfolio uses a rules-based approach with the goal of outperforming the traditional market index.
The SRI Portfolio is fairly self-explanatory, here's our guide to the SRI approach. Betterment also regularly rebalances your portfolio and reinvests dividends to ensure you're where you should be.
Some of the other features of Betterment are:
They have a straightforward fee structure – charging just .25 percent annually, based on your account balance. If you want more personalized service, they offer Betterment Plus and Betterment Premium for those with balances over $100,000 and $250,000, with .40 and .50 percent charged, respectively.
SmartDeposit allows you to deposit money into your account each month once your bank account hits a certain threshold.
They offer numerous account types: Rollover IRA, Roth IRA, SEP IRA, Traditional IRA, Trusts and other non-retirement accounts.
Tax Loss Harvesting for non-retirement accounts.
Live messaging, via their app, to trained professionals to answer any questions you may have.
Comprehensive view of all your investment accounts, including those outside Betterment, to help provide a complete picture of your retirement planning needs.
If you'd like to read a more in-depth analysis of Betterment, read our Betterment review.
Open a Betterment account today and get up to 12 months commission free!
Wealthsimple
If Betterment is the best automated retirement program for beginners, Wealthsimple is a close second. Wealthsimple operates much the same as Betterment. They listen to your needs and specific situation and make a customized portfolio for you.
There are some slight but significant differences with Wealthsimple. Both services allow you to start investing with no minimum balance and operate with a similar grouping of ETFs.
Some of the features of Wealthsimple are:
Wealthsimple charges no fees for the first year, for those starting with under $5,000. For those under $100,000 they charge .50% and those over $100,000 they charge .40%.
Wealthsimple rebalances your portfolio for free and offers free TLH.
Wealthsimple differentiates themselves with their SRI offerings, which is arguably the best in the industry and focuses on low-cost, socially conscious ETFs.
Wealthsimple offers a higher tier for those with over $100,000 in funds, called Wealthsimple Black. Wealthsimple Black gets you free access to a financial advisor as well as VIP access to over 1,000 lounges in over 400 airports worldwide – for you and a companion.
If you'd like to read a more in-depth analysis of Wealthsimple, read our Wealthsimple review.
FutureAdvisor
Betterment and Wealthfront are more traditional robo-advisors. FutureAdvisor doesn't manage your investments directly in house – they manage your investments at other online brokerages. Currently, FutureAdvisor works with both the Fidelity and TD Ameritrade platforms.
*Related: Do you want to invest in real estate but have limited funds? Check out our guide of the best sites for real estate crowdfunding for non-accredited investors that let you invest with little money.*
In essence, FutureAdvisor acts on your behalf with the above brokerages. Both brokerages will still charge you trading fees though FutureAdvisor manages everything for you. After linking up your investment accounts FutureAdvisor will analyze your investments and provide recommendations for a proper allocation. FutureAdvisor focuses on the same low-cost ETF approach as do both Betterment and Wealthfront.
Some of the features of FutureAdvisor are:
FutureAdvisor charges 0.50% to manage your investing – which is on top of any trading fees you'd incur.
FutureAdvisor requires a minimum account value of $10,000, which is higher among the top automated retirement programs.
They will take your 401(k) plan into consideration so investments are made in light of what you have in that plan.
FutureAdvisor will look at all of your accounts, retirement and non-retirement, if you wish.
You get to review all trades before they're placed.
FutureAdvisor will rebalance your portfolio 2-4 times per year.
FutureAdvisor also offers support for 529 plans, which is a bit unique among automated retirement plans.
You can use them for free if you choose to make trades outside of their platform.
Open a free FutureAdvisor account today!
wisebanyan
WiseBanyan is a newer robo-advisor, having opened for business in 2014. WiseBanyan acts much like other automated trading programs and manages your investment portfolio to reach specific goals.
Perhaps my favorite feature of the WiseBanyan is you can open an account for as little as $1. Additionally, WiseBanyan does not charge any fees to manage your account. This begs the question of how they're paid – which is a fair question. WiseBanyan charges up to $20 per month if you choose Tax-Loss Harvesting (TLH). If you don't choose the TLH feature (known as WiseHarvesting), or have a retirement account, you don't need to worry about the fee.
Beyond the lack of fees, I really like the goals-based investing approach offered by WiseBanyan. I find that saving or investing for a particular, tangible goal helps people save more purposely and excites them to take more ownership over their investing needs.
Some of the features of WiseBanyan are:
Active rebalancing. Any time you make a deposit, withdrawal or receive a dividend, WiseBanyan rebalances your portfolio.
WiseBanyan uses "Milestones" to guide your investing. Those are Build Wealth, Rainy Day, Retirement and Custom.
WiseBanyan offers low-cost ETFs to construct your portfolio, with the current average expense ratio of .12 percent.
They support fractional shares. This is not something offered at many robo-advisors.
WiseBanyan only supports Individual, Roth IRA, Traditional IRA and SEP IRA accounts.
If you'd like to read a more in-depth analysis of WiseBanyan, read my WiseBanyan review.
Open a WiseBanyan account today with as little as $1!
Personal Capital
Personal Capital doesn't offer a true automated retirement program, but they're that good that they belong on my list. Think of Personal Capital as Mint with a lot of investing features included. We use Personal Capital in our home and love what they offer.
Personal Capital offers a full suite of financial management products to manage your finances. You link your accounts – from anything like your bank accounts to credit cards to mortgage and investment accounts so you can get a complete picture of your financial health. We use it to monitor our spending, plus a few other things, but it's the investment piece where they stand out.
Personal Capital targets those with investable assets of $250,000 or more though you can work with one of their advisors with as little as $25,000. The advisor will manage your investments for you, again focusing on low-cost ETFs. It is not a requirement to work with a financial advisor from Personal Capital to use their platform. We've used the platform for three years and never worked with one as we're self-directed investors.
Some of the features of Personal Capital are:
Personal Capital is free to use. You don't spend a dime, but you get access to their full suite of tools.
Personal Capital analyzes your portfolio to see if there's lower cost funds available.
The platform will compare your investments against their benchmarks to make sure they're performing as they should.
You can use Personal Capital to set payment reminders to help better manage your bills.
You will likely be contacted by an advisor when you open an account though you don't have to work with them and can politely decline.
If you'd like to read a more in-depth analysis of Personal Capital, read my Personal Capital review.
Open a free Personal Capital account today!
Saving for retirement, and investing in general, can be overwhelming. Don't let that hold you back from investing. If you don't know where or how to start, take a look at some of the best automated retirement programs and get started investing today.
Do you use a robo-advisor to manage your investing? Would you ever trust a virtual financial advisor to manage your retirement planning? When did you start investing in the stock market?
The following two tabs change content below.
John is the founder of Frugal Rules, a dad, husband and veteran of the financial services industry whose writing has been featured in Forbes, CNBC, Yahoo Finance and more.
Passionate about helping people learn from his mistakes, John shares financial tools and tips to help you enjoy the freedom that comes from living frugally. One of his favorite tools is Personal Capital , which he used to plan for retirement and keep track of his finances in less than 15 minutes each month.
Another one of John's passions is helping people save $80 per month by axing their expensive cable subscriptions and replacing them with more affordable ones, like Hulu with Live TV.
Latest posts by John Schmoll (see all)