How to Balance Being Generous With Being Frugal
Posted on September 22, 2015 by Cat in
Lifestyle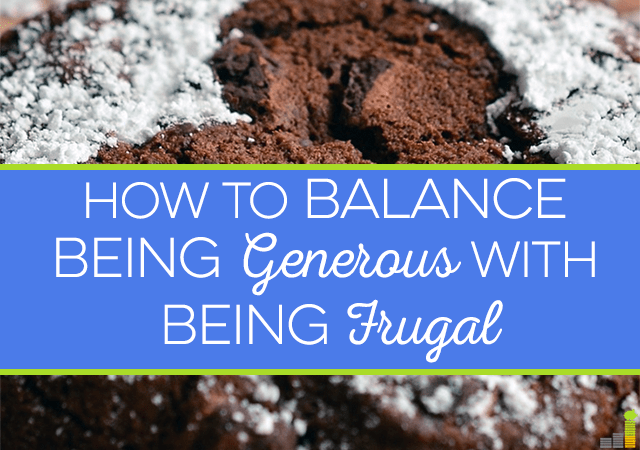 In 2011, the Los Angeles Times reported that the United States was the most generous country in the world, and I don't know about you, but it makes me want to do my part.
I am a big believer in being generous, but giving to others can be challenging when you're also frugal and trying to stick to a budget. After all, if you're having trouble paying your bills or you're drowning in student loan debt, it doesn't make much sense to give your money to someone else. This is why Dave Ramsey preaches about being debt free so you can "give like no one else."
The good news is that there are ways of being generous and still being frugal at the same time. Here are some examples:
1. Give Your Time
My next door neighbor is the nicest woman. She has 30 year old boy/girl twins, so I think she remembers how crazy things were when they were 18 months old (or else she blocked it out – haha!) She regularly comes over just to wash my dishes, hold a baby, or take my dog out. She just knocks and offers to help randomly. Last week she brought me some blueberries from Trader Joe's because I was completely out (and my son is obsessed.)
Suffice it to say, she's made a majorly positive impact on my life since moving next door to her over a year ago. She's never given me a donation or a check or anything monetary. She's just sweet and gives her time as a fellow twin mom, and that's the greatest type of generosity I could ever ask for.
2. Make it Small
Is there a mom with a brand new baby standing behind you in Starbucks? Why not buy her a coffee? Is there a family next door whose kids are using beat up backpacks with patches on them for school? Quietly drop brand new backpacks on their front porch without a note. Leave a dollar in the vending machine for the next person. Pick up trash on the side of the road. For the love of God help the mom who has two kids jumping out of the grocery basket instead of staring (maybe I'm just bitter about that last one.)
The point is that being generous doesn't always have to mean donating a million dollars to a university to have your name on the side of a building. Really it can mean just doing something really small that makes someone's day.
3. Cook and Bake
When you are on a very tight budget, giving gifts can be difficult. So, if a young couple you know is getting married, cooking and baking might be a great option. You can give them a beautiful card on their wedding day with a "coupon" that's good for one home-cooked meal (then actually follow up on it!) If you're going to a baby shower, you can do the same thing and then bring a huge plate of inexpensive lasagna over to the new parents.
When I moved to New Jersey and my twins were only five weeks old Shannon from Financially Blonde drove to my house with five large trays of food among other goodies (like cookie cake – can't forget about the cookie cake!) We had food for pretty much three weeks. It was amazing and the perfect gift for two very tired parents who just moved across the country. Had Shannon showed up to my house with matching onesies, I would have been appreciative but her generosity in taking the time to make us so many meals was what make her giving nature truly memorable.
Ultimately, you don't want to be so generous that you go into debt or so generous that it throws off your budget and makes your electric bill unaffordable. The point is to really try to find the quiet moments where a small act of kindness or generosity can make a big difference. I try to do this in my life even though I have six figures of student loan debt. Usually it's just offering someone a helping hand or encouraging someone who needs it. Even though it's simple, I like that I've found a way to live frugally and generous all at the same time.
What are some ways you like to help others? Do you feel like you can't be as generous as you want to be because of your finances? When did someone surprise you with an act of kindness and how did it make you feel?
The following two tabs change content below.
Catherine Alford is the go to personal finance expert for parents who want to better their finances and take on a more active financial role in their families.