Finding a Balance Between Saving and Spending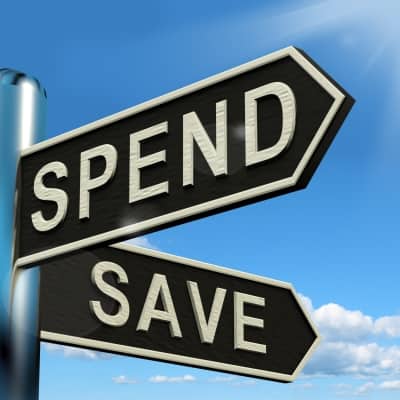 Before we started our journey out of debt, we had no direction whatsoever as far as saving and spending were concerned.  Because we had no plan, every expenditure made us panic, necessity or not.  Saving didn't feel good, it felt bad, because deep in our hearts, we knew it would never last.  After we started our journey to debt freedom, it took us a good year to get into a groove and get over the guilt that we associated with having to – or wanting to – spend money.
A year and a half into our journey, we're finally getting to a place where we have some balance in the area of both saving and spending, and we've learned that saving well – and spending well – are both vital parts of a journey to financial independence.
Saving and Spending – Why Balance in Both Areas is Crucial
Having balance regarding saving and spending money is important to a goal of debt freedom or financial independence because, whether or not you realize it, every little bit adds up.  Those dimes and nickels you save add up, over time, to a lot of money.  Saving a couple of bucks on your utilities, your cable TV, your grocery bill or your entertainment monies might not seem like a bit deal at the time, but if you add them up over the year, I can guarantee you that you'll end up with a nice chunk of change in your pocket.
Having balance regarding spending money is equally as important.  What I mean by balance, though, in this area, is that when you spend, it's important to spend well.
Learning to Spend Well
For instance, us being on a pretty strict budget right now as we whittle away at our debt, going out to eat is something we usually only do three or four times a year.  If we're lucky.  However, this month we made an exception, and accepted an invitation to join a beloved family member in celebrating her birthday at a sit down restaurant. We all paid our own way, and all said and done, our final bill for our family of six was, with tip, $78.  That's a lot of money for us, and it's the reason we rarely go out to eat.
As we planned in advance for this expenditure, all sorts of things went through my mind.  I checked the online menu for prices, added up rough estimates for what each meal would likely cost, and looked for online coupons.
Then I realized that if the three of us who were purchasing adult meals ordered water instead of pop, we'd save an additional $8-$10 dollars.  Woohoo!  We were whittling down that bill by more money with each passing minute!
STOP!  WAIT!!
So, we're going to spend big (to us) money on a rare dinner out, and then deny ourselves a glass of pop – which we rarely drink  – in the name of saving a few extra dollars?
Absolutely not.  This, to me, was going overboard.  If we were going to enjoy a dinner out, then we were going to enjoy a dinner out – not spend the whole evening and subsequent days wondering whether or not we should've splurged for an extra $8 on pop.
And this is what I'm talking about.  Yes, you should constantly be on the lookout for ways to save extra.  Yes, you should spend money on things that are of value to you instead of making random, useless purchases for the sake of the YOLO lifestyle.
However, when you find yourself faced with a value-based purchase – enjoy it.  Don't freak out about whether or not you should order your burger with cheese or not because it costs an extra buck.  If the purchase you are making truly is value-based, then, by all means, get the cheese!!!!!  And get the pop.  Enjoy yourselves and don't flip out about the fact that you could've spent $10 less.
You see, the great thing about having a balance between saving and spending is that it puts you in a financial position to worry less about those little extras, because those little extras aren't spent on all that often.
This is the peace of mind that comes with having a financial plan that fits your life, and sticking to that plan.
How do you find a balance between saving and spending? What do you allow yourself to splurge on once and awhile, even as you pay down debt or live on a budget? Is there anything you're not willing to give up?
Photo courtesy of: Free Digital Photos
The following two tabs change content below.
Laurie is a wife, mother to 4, and homesteader who blogs about personal finance, self-sufficiency and life in general over at
The Frugal Farmer
. Part witty, part introspective and part silly, her goal in blogging is to help others find their way to financial freedom, and to a simpler, more peaceful life.