4 Tips to Avoid Temptation When Paying off Debt
Posted on February 17, 2017 by Cat in
Debt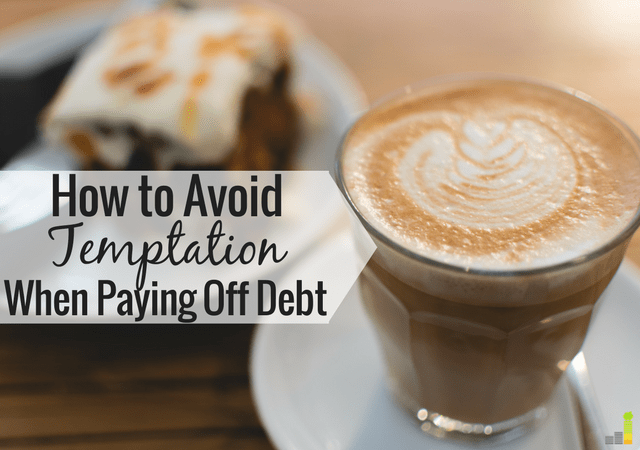 I've been aggressively paying off debt all year, and I find the harder I work to pay down debt, the more difficult it is to avoid temptation, which I see all around me.
I'm sure you can relate if you're also in debt repayment mode.
Marketers are smart, and they are skilled at making consumers want to buy, buy and buy some more. So, below are four tips I use to avoid temptation when paying off debt. Hopefully, they can help you too.
Roll Up all Deal E-mails
I use a program called Unroll.me which is great because you don't have to go cold turkey and unsubscribe from every single deal e-mail that you get. I don't know about you, but sometimes I have to buy my kids winter socks, so it's helpful to know when Old Navy or Target is having a sale.
With Unroll.me, you sign up, select the e-mails you want to "roll up," and you'll get one e-mail per day with all the e-mails in one place.
Unroll.me will even unsubscribe you from e-mails with one click, so you can go through and unsubscribe from your trigger stores if you want without having to even open an e-mail and get tempted.
Stop Walking Around the Mall
Ah, yes. The mall. Here in Michigan, it's been snowing off and on all winter, so heading to the mall to walk around inside is a good way to escape the cold and let the kids get out some energy.
Unfortunately, walking around the mall makes me want to spend all my money. All my favorite stores are there in this beautiful mall with tons of different floors and buildings. There is also ice cream, which is obviously a weakness for many people, not just me.
Lately, I've had to find other ways to entertain my kids (and myself!) since the mall isn't exactly conducive to saving money.
Watch Who You Spend Your Time With
Jim Rohn, the well-known speaker, says we are a sum of the 5 people we spend the most time with. So, if you spend time with spenders, it's going to be a lot harder to save.
Think about it. If your friends go out to eat all the time and invite you out often, it's going to be hard to turn them down. However, if you have friends who love to spend time at home enjoying a potluck with other friends, it's a lot easier to bring over a side dish and save.
Unfollow Facebook Groups
One of my big weaknesses lately has been buying my kids clothes on Facebook mom groups. I tell myself that because they are used or deeply discounted that it's okay for me to buy them. However, when I start to buy too much of them, that affects my debt repayment goals.
So, if you have similar tendencies and love a good deal, it might be wise to unfollow all of your buy/sell/trade Facebook groups. Ruth Soukup, the popular business owner behind the Elite Blog Academy, recommends that business owners unsubscribe and unfollow everything on Facebook except their own business page. I'm working through that advice right now, but it's definitely a process!
Ultimately, when it comes to aggressively paying off debt, you just have to pay closer attention not only to your spending but to where you go, who you spend time with, and what you see on a day to day basis when you go online.
As I mentioned previously, marketers are smart, and they are trained to get us to spend every day, whether it's with a Facebook ad, targeted e-mail, or an awesome sale in the window as we walk through the mall (I'm looking at you, adorable baby stores.)
However, when you're laser focused on debt repayment, you have to ignore everything that's trying to distract you away from your goals, and sometimes that might include the things you really like, including spending time with certain friends or surfing Facebook.
If you need help getting rid of debt, check out our posts on 25 Ways to Start Paying Off Debt Now and How to Be Proactive About Paying Off Debt.
Have you paid off a lot of debt? What did you do to avoid temptation while doing so? What are some other tricks you've found to be helpful when trying to reach a financial goal?
The following two tabs change content below.
Catherine Alford is the go to personal finance expert for parents who want to better their finances and take on a more active financial role in their families.