Amazon Dash Button – What's Convenience Worth to You?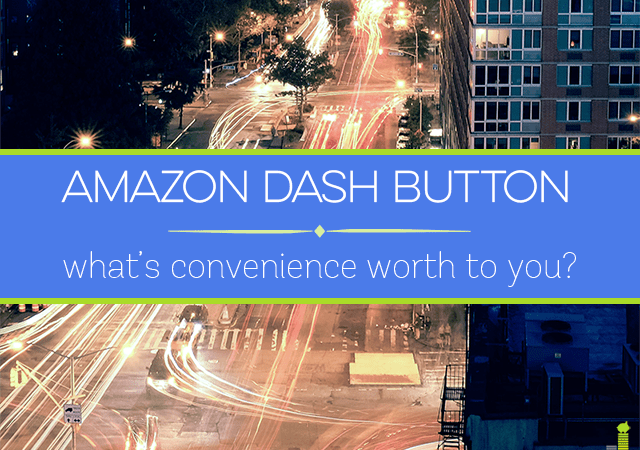 The Amazon Dash Button is another in a long line of services offered by the internet giant meant to offer convenience to us as consumers. In essence, it is taking one click ordering and putting it on steroids through Amazon Prime.
If you've not heard much about the Dash Button, news started coming out about it last week; it's a pilot service currently being offered by invitation only to Amazon Prime members with plans to roll it out more widely later in the year. Like many others, we have fairly busy lives and use Amazon to buy a number of different products and services. As Prime members, we were intrigued thought it would be good to see if the convenience promised by the new service lives up to the hype.
How the Amazon Dash Button Works
If you take a look at the picture from Amazon below, the Dash Button is relatively small – maybe about the size of a pack of gum. The button can be attached to any product and Amazon currently lists a little over 250 items available for the dash button. Once you see you're running low on a Dash-compatible item, you simply press the button and it orders said item for you. It's very simple and easy – which is exactly the point.
As a parent of three little ones, I must admit that this concerns me a bit as the last thing I want is to wake up one day to 20 cases of toilet paper or 70 pounds of cat food on my doorstep. Amazon was mindful of this and made the Dash Button capable of processing only one order at a time.
It is also important to point out that the Amazon Dash Button is connected via Wi-Fi to Amazon's phone app and allows up to 30 minutes to cancel an order. So, that does relieve some of the stress of getting 10 cases of macaroni and cheese tomorrow because our kids thought it was a good idea to take over meal planning for the house.
You might also be thinking that the Dash Button is very similar to the Subscribe and Save service Amazon provides…and you'd be correct. We use Subscribe and Save for several items in our home that we know we go through on a regular basis and use it as a way to save time and not have to step foot into Wal-Mart. However, Amazon has no intent of killing off the Subscribe and Save service with the introduction of the Dash Button. It is simply meant to be yet another feature to further entrench them into your purchase decision.
What Brands Do You Spend On?
Concerns over the risk of getting mass quantities of one item ordered by accident aside, I think the Amazon Dash Button is a novel idea. In essence, if you know what brands you spend on then it simplifies the act of purchasing it. Good or bad, it takes something routine that we all do every day (purchase products) and makes it easier.
We've discussed shopping by brand name before on the site and believe we all have brands we will spend more for. I know that I do and that my wife does and many others do as well. Personally speaking, I like to spend for value. In many instances that means getting a lower priced item, but in a number of instances I will spend more to get the name brand item because I either prefer it or because it is a quality item. Arguably, if there is a specific brand you purchase it'll make it that much easier for you to buy the product.
Convenience – But With a Cost?
Amazon is all about convenience. Not only that, they want to entrench themselves as the go to source for most anything you will buy or consume. You can watch movies and TV shows through the Amazon Fire Stick, get your groceries delivered and everything in between. For many, like us, that is a great convenience to have. But, can that convenience cause you to overspend?
I would argue that it could. We joined Amazon Prime at the end of 2014 as a means to get the free shipping and had been something we were debating for several months to get away from shopping at Wal-Mart. I will be honest, I know having the Prime membership has made it easy to overspend. The overspending hasn't been anything crazy and well within what we can afford, but it's overspending none the less.
Now, with the Amazon Dash Button, you get a visual reminder of something being low. For some this could make them feel like they have to buy another item. In other instances, like an office manager needing to buy more replacement K-Cups for the office Keuring machine or something like that the convenience could be worth it. Only you can say whether the convenience of one click ordering would cause you to overspend or not.
Does the Dash Button Limit Choice?
I've read a number of articles over the past few days addressing the concern that the Amazon Dash Button could be bad for brands. The argument goes that we as consumers would get mindlessly locked into buying a specific brand and avoid other possibilities. Being an advertiser myself, I believe this is a somewhat valid concern. One click ordering could make it more difficult for new brands to stand out, effectively limiting consumer choice.
As a mindful consumer though I see how it could make it more difficult to find deals that would result in us spending less money. Admittedly, we don't spend as much time as we used to scouring for deals but that's not to say that we've given up on it altogether. We still try to find ways to cut expenses as time allows and, on one level, having the added convenience of the Dash Button could cause some to give up on that.
What are your thoughts on the Amazon Dash Button? Is the convenience of one click ordering worth it to you? What is the risk of overspending through it, in your opinion?
The following two tabs change content below.
John is the founder of Frugal Rules, a dad, husband and veteran of the financial services industry whose writing has been featured in Forbes, CNBC, Yahoo Finance and more.
Passionate about helping people learn from his mistakes, John shares financial tools and tips to help you enjoy the freedom that comes from living frugally. One of his favorite tools is Personal Capital , which he used to plan for retirement and keep track of his finances in less than 15 minutes each month.
Another one of John's passions is helping people save $80 per month by axing their expensive cable subscriptions and replacing them with more affordable ones, like Hulu with Live TV.
Latest posts by John Schmoll (see all)