How to Stop Being Afraid of Investing
Posted on March 10, 2016 by Robin McDaniel in
Investing
Many personal finance bloggers are all about investing in index funds, and for good reason. When I first discovered that personal finance blogs were a thing, it didn't take long before I stumbled upon Mr. Money Mustache and became completely humbled. He and many others like him have mastered the art of intense saving, frugal living, investing in the stock market and retiring early and it's fascinating to read about.
But as captivating as those stories are to read, they can also be overwhelming when you start to think about your own investment strategy. Where do you begin when you have no idea what an index fund is or how the stock market even works? Believe me, I've been there, and recently.
Isn't a 401(k) or IRA All I Need?
Although I've had a 401(k) since I was 25, when I opened it, I picked a few funds to invest in, set up my payroll deductions and moved on for the next few years, oblivious to the fact that I was paying outlandish fees. However, that last part isn't important.
I was perfectly fine paying someone to help me make choices on where to invest my money in a market I knew nothing about, and to this day, I don't regret that because at least I started investing. At least I did something right, even though I had no clue what I was doing.(Editor's note: Starting to invest is the most important thing. I hate to see new investors get hung up by cost and not begin their investing journey. However, you should always be aware of costs and try to not pay more than you have to.)
But as I educated myself, I wanted more. I wanted to open my first taxable investment account, but I had no idea where to start, and the fear of the unknown paralyzed me, until I had tens of thousands of dollars saved up in my savings account.
That's a good problem to have, but yikes! You don't need to know much about money to realize that leaving that much money in a savings account isn't much better than keeping it under your mattress. The loss of compounding interest, the loss of time, the loss of inflation, oh my! Something had to change. It was time to put on my big girl pants and jump in headfirst, so that's exactly what I did.
If you're sitting in that same position today, you're not alone. Investing doesn't have to be scary and you don't have to lose a ton of your money to fees.
Educate Yourself
The first step you should take before you start investing is to educate yourself. Read, read, read, and then read some more. Read the best personal finance blogs to see where they invest their money. Make notes. Go to the library and check out some books by Warren Buffett, and Jack Bogle. Make some more notes.
You're never going to be comfortable with investing until you learn some of the basic terms and the best strategies, and luckily, there are plenty of investing books for beginners out there that can water it down enough for anyone to understand.
Remember, you don't have to become an expert on investing. You simply must learn enough about it to make yourself feel comfortable and make wise investment choices. You are educating yourself so that you can help your money grow, and that's worth the time it will take to read a few books.
Keep It Simple
If you learn anything from reading those investment books, it should be to keep your investment strategies simple. Don't expect to hit it big with some hot stock; the stock market is not the lottery. Be realistic, realize that you're investing for the long-term, and, once you're ready, just start investing with whatever amount you have to contribute, no matter how small it is.
You Don't Need a Ton of Money to Start, So Start Small
Too often, people don't invest because they think you need tens of thousands of dollars to start. That's just not the case. There are plenty of low-fee investment firms out there with a very minimal balance requirement, like Betterment (who has no minimum balance requirement) so do your research to find a good fit for you.
No matter how much money you have to invest, if you're nervous about it, then there's nothing wrong with starting small. Don't invest so much that you can't sleep at night. Keep however much money it is in your savings account that allows you to not worry about how the stock market is doing every day, and once you start investing, don't check your account daily or look at stock prices online. That's not going to fare well for you in the long run.
Instead, take that first $500 or $1,000 (or however much you're comfortable with to start), and let it sit in your investment account for a month or two until you realize that it's not going anywhere. Although there will be times when it decreases in value, the stock market will eventually recover, as it has a proven track record of doing. (You're in it for the long haul, remember?) Then when you're ready, start investing more heavily to really begin building your wealth.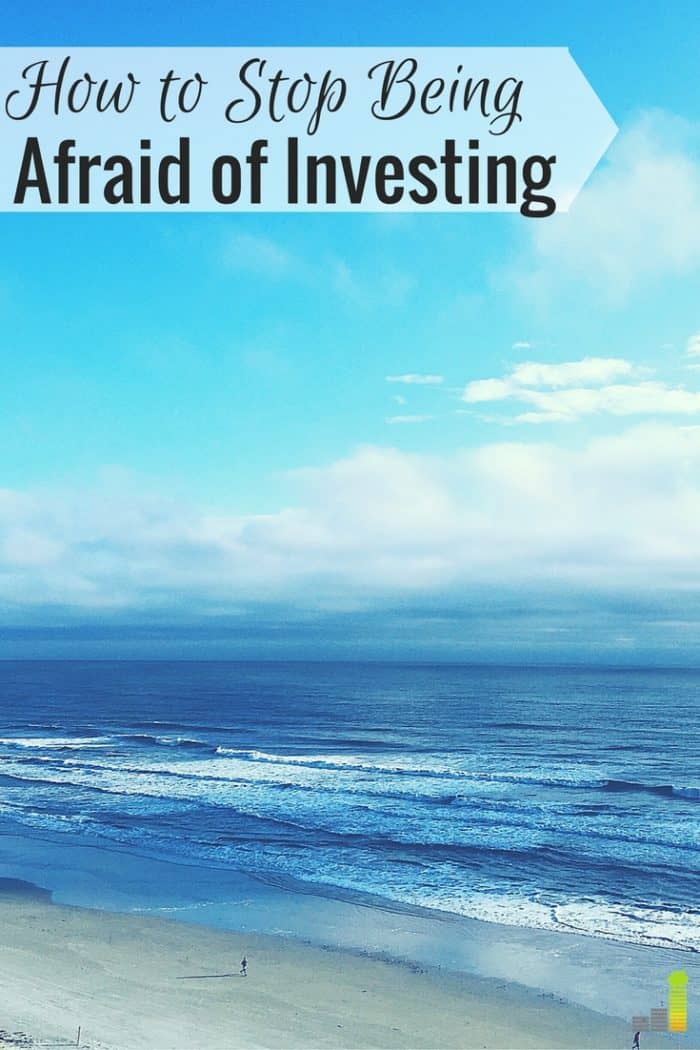 It's Not As Scary As You Think
Because I used to believe that investing was too risky, it was hard for me to open my first online brokerage account, but I was only scared because I was uneducated about the process. The only way I knew to remedy that was to start picking through all the information I could get my hands on until I was comfortable enough to finally make the leap, and now, I don't see what the big deal was.
So, if you're ready, go ahead and make that leap. Read the books, plan your (simple) strategy, and open an investment account. Once you're done, you'll probably wonder what took you so long.
Do you invest outside of your retirement accounts? Do you have a personal investment strategy? Did you read any good investment books that helped you when you started investing?
Save
The following two tabs change content below.
Robin McDaniel
Robin is a freelance writer who chronicles her financial missteps and victories on her blog www.TheThriftyPeach.com.
Latest posts by Robin McDaniel (see all)