June is wedding season, and chances are you might have a few save the dates or wedding invitations hanging on your fridge. Of course, with every wedding invitation comes an obligation to purchase gifts for the happy couple. Not that you wouldn't want to purchase a gift, mind you; it just can be hard to find a wedding gift that is unique, wanted by the bride and groom and is something that fits within your budget.
If you are on a tight budget or simply don't believe in $80 sterling silver spoons, check out these affordable wedding gift ideas below.
1. Cash
Okay, this might feel like cheating, but I can promise you any bride and groom will definitely love cash as their wedding gift. 🙂 Plus, it's one of the best affordable wedding gifts because you'll only give what you can afford! The bride and groom will benefit because they can buy whatever gift they want or combine it with other cash gifts to buy something more expensive they've been eying.
I remember one of my dad's friends putting a $100 bill in my husband's pocket right before we left our wedding reception. It was so thoughtful and nice, and we used it to buy a fancy dinner on our honeymoon. I hope that one day I can be just as generous to other couples!
2. Picture Frames With Pictures
These days everyone has pictures in digital form, whether on their phone or on their computer. However, very rarely do people take the time to actually print out photos. So, instead of giving someone empty picture frames from their registry, why not purchase the frames and put in a picture of them! You can wait until some wedding photos come out or just snag some of their Facebook photos.
3. Two Beach Towels
Having lived out of the country in the Caribbean for 3 years, I can attest to the fact that a nice beach towel is a great gift. You can get two beach towels from a big box store for about $5 each or you could splurge on something a little higher quality for $15 each. Extra points for personalizing and monogramming them.
This is one of those affordable wedding gifts no one thinks of but everyone uses when they head to the beach for their summer vacations. It's nice to have a matching set as a married couple, and there's just something "grown up" about having high quality ones instead of the ones plastered with Disney princesses. (Editor's note – I definitely agree with this one. Nothing says "help me" like having to drag a Frozen beach towel to the beach.) 😉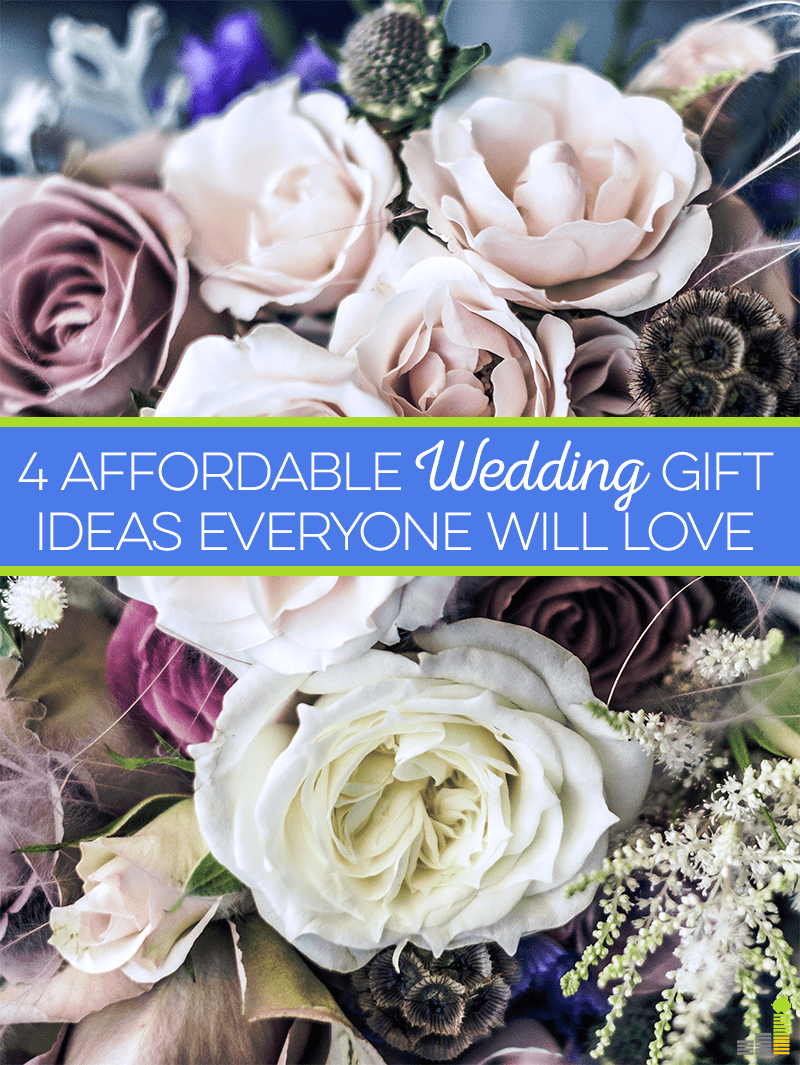 4. A Throw Blanket
I don't know why I "beeped" a throw blanket when we were registering for gifts for our wedding. It just seemed like a good thing to have because you know, you can never have too many blankets around. The blanket felt soft, and it was enormous. Frankly, I was a little beep happy with the scanner, and I was just going through and selecting whatever looked nice. Beeping the blanket turned out to be a smart decision because it was something like $30 and fit right in as one of those affordable wedding gifts that people love to buy!
Would you believe that I've used that blanket pretty much every day since receiving it? All the expensive china remains in storage and all of the wine glasses have been sadly neglected. However, I use that blanket every night and it continues to be one of my favorite wedding gifts.
What are some of your favorite items to gift married couples? Would you feel comfortable giving cash as a gift to a wedding couple? What qualifies as an 'affordable wedding gift' in your book?