15 Affordable Ways to Get Healthy This Year
Posted on January 18, 2017 by Choncé in
Lifestyle
If you want to get healthy this year, you're going to need to get serious. Making your health a priority this year is not a suggestion, it's a must. For many people, living a healthier lifestyle just adds another expense to their budget.
There are so many health products and programs out there that promise big results but cots lots of money.
It's important to realize that there's always a frugal alternative that doesn't involve cutting corners. Don't have much to spend on a healthier lifestyle? Don't worry. Here are 15 affordable ways to get healthy this year.
1. Get Enough Sleep
Getting enough sleep is something many people often overlook. When you're constantly busy and life seems all about the hustle, it can be difficult to make sure you're getting at least 7-8 hours of sleep.
According to a Gallup Poll, 40 percent of adults get less than the recommended amount of sleep daily which is just not good enough. Sleep not only gives your body a chance to rest and restore itself, it also boosts your energy levels and gives your body the time it needs to cool down so it can torch calories and burn fat as you sleep.
2. Cook More of Your Meals At Home
Cooking your meals at home is a great way to get healthy and save money on groceries. It can also help you adopt a healthier diet since you'll know exactly what's going into your food.
You can check out food blogs for simple recipes, meal plan and cook some meals in a crock pot so you're not hovering over the stove every night.
3. Say No to High Fructose Corn Syrup
You may have heard that high fructose corn syrup is pretty bad for you. What you may not know is that this ingredient can be more addicting than sugar and offers no nutritional value. High fructose corn syrup can be found in:
Sugary drinks
Breakfast cereal
Granola bars
Certain brands of bread
Yogurt
Breakfast pastries
Condiments like ketchup and Miracle Whip
Candy and candy bars
Salad dressings
On the bright side, many brands have caught wind of how bad high fructose corn syrup is and have started making products without it. All you have to do is check the nutrition label to avoid it.
4. Avoid Foods and Drinks That Contain Artificial Sweeteners
Artificial sweeteners are also no good if you want to get healthy. You may think you're doing yourself a favor by avoiding sugar, but artificial sweeteners have raised questions about possible links to health problems including cancer and diabetes. At a minimum, they may make you less open to healthy, nutritious food. The Harvard Medical School wrote recently said that, "the use of artificial sweeteners can make you shun healthy, filling, and highly nutritious foods while consuming more artificially flavored foods with less nutritional value."
Plus, these sweeteners are man-made and most aren't natural which is why it's best to avoid them when you can and only consume them in moderation. Don't talk yourself into the old trick of thinking you can have a slice of cake if you drink it down with a diet coke.
5. Eat a Protein-Packed Breakfast
Breakfast is the most important meal of the day so try not to skip it even if you aren't a morning person. Eating a breakfast rich in protein will provide you with the energy you need to get through the day and allow you to feel full quicker too.
Most mornings I cook an egg and a few slices of turkey bacon. It's simple and cheap.
6. Drink 8-10 Glasses of Water Daily
Make sure you're drinking enough water daily as this small but importation action can easily be overlooked. I used to be big on drinking sugary drinks and energy drinks and I always felt sluggish throughout the day as a result.
*Related: Not sure where to get a flu shot this season? Read our guide for the best places to get cheap flu shots near me to save money and stay healthy!*
Now, I just drink water and have noticed a positive spike in my energy levels. Water is refreshing and cheap. You can always infuse your water with fresh fruit as well to make it taste better.
7. Walk Daily
How often are you walking each day? If your answer is 'little' or 'not enough' then take steps to improve it. To increase your amount of steps daily, you can walk around the neighborhood, walk to the store instead of driving, or park your car in the back of the parking lot so you'll have a longer walk. Plus. it's a great alternative to a high-priced gym membership. Why pay to walk on a treadmill when you can do it outside for free?
It also might help to track your steps each day. You don't have to invest in a pricey Fitbit if you don't already have one. You can get a basic pedometer for just a few bucks from any major store or online.
8. Test Your Water
I recently found out about water testing and became very intrigued. If you don't really know what's in your water, I'd recommend getting a water testing kit so you can find out if your water contains things like lead, pesticides, bacteria, iron, copper, etc. and in what quantities.
Even if you use a water filter most of the time, it's good to know in case you happen to use faucet water for cooking.
9. Sign Up For Health Insurance
This is probably the most expensive thing on this list of ways to get healthy this year, but it's not negotiable. Health insurance premiums can be a pain but whenever I get sick, I have peace of mind knowing that I can go to the doctor and get treated.
It's important to listen to your body and get regular check-ups and screenings and you don't want to be worried about the cost when it's time to make those decisions. As is the case with so many of the items on this list, it's important to be your own advocate for your health care. The days of having someone else watch out for your health end when you become an adult. Now, no one can or will do as good of keeping you healthy as you.
10. Try Yoga or Meditation
Yoga and meditating will help relax not only your body but your mind too. It's also easy and free to try. There are plenty of free videos you can watch online that show you how to meditate or get started with yoga.
You may even be able to find a free yoga class in your area.
11. Use Proper Posture
It's important to make sure that you use proper posture, especially if you are sitting at a desk all day. Bad posture can lead to back problems and even muscle issues. Sit up straight and use proper back support as often as you can and when you lift items, be sure to use your legs and not your back.
12. Stand Up Often If You Have a Desk Job
I don't mean to sound dramatic, but sitting all day can lead to chronic disease and reduced life expectancy not to mention poor mental health.
I've certainly been too involved in my work that I wound up sitting for hours on end without even noticing it. If you have to sit a lot during the day, try giving yourself walking or stretching breaks every 30 minutes.
You may even want to invest in a standing desk or see if your boss can purchase one for you.
13. Read Self-Help and Personal Development Books
Improve your mental health by reading more. While fiction books are great and can relax your mind, self-help and personal development books can provide you with tips and strategies to improve your life.
You can borrow books from friends or pick up a book for cheap at used stores or order some on Amazon. Or, even check out your library's inventory and get a few books for free.
14. Schedule Time to Exercise
One of the best ways to prioritize your health is to stay active. If your schedule is preventing you from exercising, try to switch things around or exercise in the morning to get it out of the way.
All you really need is 15-30 minutes a few days a week to start.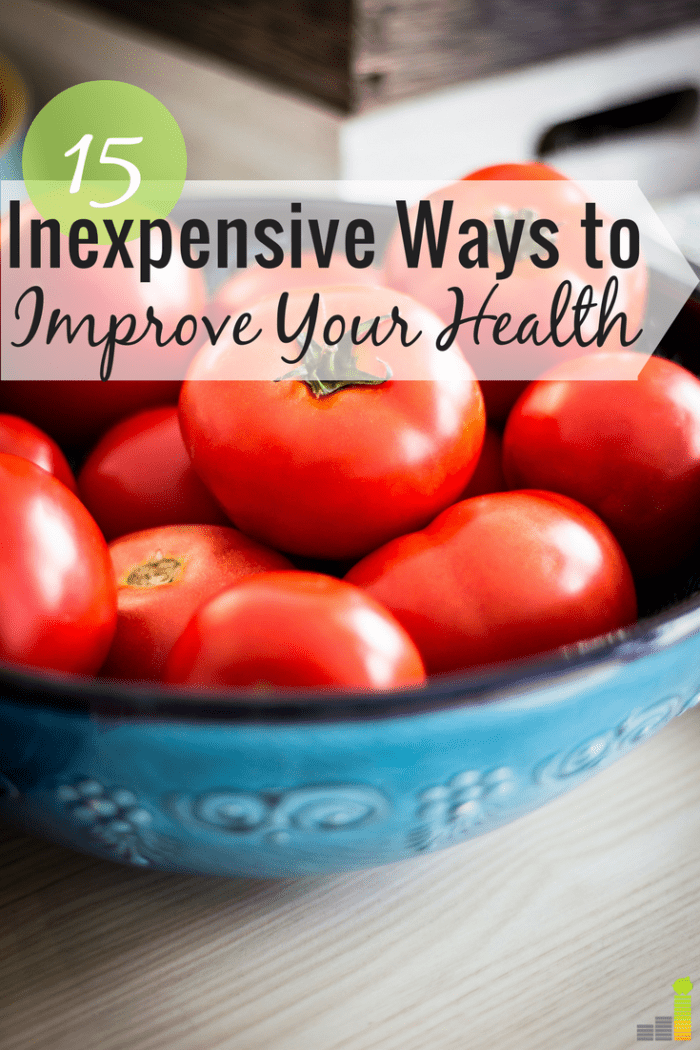 15. Have Fun
Finally, don't forget to have fun and relax. Find a hobby that you enjoy so you can de-stress regularly and have a creative outlet. Laughing is also a good way to relieve stress and other negative feelings so be sure to schedule some time in to relax, have fun, and take care of yourself.
As you can see, there are plenty ways to prioritize your health without buying a ton of expensive products or programs. While it's important to realize that sometimes you do need to invest some money into improving your health, there are also frugal alternatives that you can try in the meantime to make a difference. That way you'll reap all the benefits of a healthier lifestyle without busting your budget.
How do you plan to prioritize your health this year? Have you already tried doing any of these things on the list? What would you add to this list that I forgot?
The following two tabs change content below.
Choncé is a freelance writer who's obsessed with frugality and passionate about helping others increase their savings rate, eliminate debt, and work toward financial stability. She chronicles her journey with balancing motherhood, work, and finances on her blog, MyDebt Epiphany.com