Adventures of a Wannabe Homesteader
My little family of three has lived in the country for over three years. We used to live in a big city on a main street, but when we had our daughter, we wanted life to feel a little calmer. We didn't want to hear a constant stream of traffic outside our front door, we didn't need to be within five minutes of shopping, and we wanted more space for our little girl to play outside.
We craved a calmer, simpler, quieter life, so we moved 20 minutes outside of the city to a small town of about 3,000 people. Now I think of myself as a wannabe homesteader.
Simplifying Our Home
My husband wanted land, but I liked the feel of a neighborhood where our daughter could play and make friends, so we compromised on a small home on an acre of land at the end of a cul-de-sac in the country. While I didn't fall in love with our little, affordable home at first, it has now become our little haven where we can truly relax and be ourselves – especially now that we've paid off our mortgage.
I never thought I'd say this, but living in the country really suits me. While I love to vacation in big cities to soak up as much culture and excitement as I can, I relish the quiet calm of living outside the city. It forces us to slow down and realize what's important, and it also encourages us to live more like our grandparents did, which has slowly turned us into wannabe homesteaders.
Since we're not quite to the point where we can retire to a tiny farm house in the middle of a few acres, we are making do with what we have and diving into mini-bouts of homesteading in a neighborhood. Yes, it is possible!
Homesteading Isn't Just for Country Dwellers
Being a homesteader involves figuring out what you can do for yourself rather than buying it from someone else, and it's making a comeback due to the recession and the increasing popularity of frugality. What can you cook/make/grow without relying on someone else? It's about self-sufficiency, frugal living, being healthier and learning age-old trades, which is rewarding both physically and mentally.
Luckily, homesteading is not an all or nothing kind of deal. You don't have to own a 900 acre farm to try your hand at it. You can do many of these things in a city if it sounds like fun to you, and you can teach yourself all the skills you need. Everything we have learned is through trial and (lots of) error, help from others, and maybe a few library books in between.
Chickens… In a Neighborhood?
Because we have woods on two sides of us, we are able to keep chickens in the privacy of our large backyard. We love to eat fresh eggs, and raising chickens been a great learning experience for us. As far as farm animals go, chickens are the only thing we can get away with in our neighborhood (although our neighbor did keep a pet pig for a while), because they are small and low maintenance. We make sure to keep their pen cleaned out so they don't smell, and most of the time when we have new visitors over, they are surprised to learn that we own chickens because you can't see, hear, or smell them.
Even if you don't have any land, you can keep chickens in the city if you really want to. All you need is a small area in your yard to keep their coop, a couple of hens, and you are good to go. Be respectful of your neighbors by keeping them in their coop or your fenced yard and keeping their pen cleaned out. It's also nice to offer up a dozen fresh eggs every now and again. 🙂
Gardening, Composting, and Rain Barrels
My husband's favorite homesteading endeavor is his garden. He relishes coming in the house with an arm load of fresh veggies for us to cook for dinner. He takes so much pride in the fact that he can provide nourishment for our family with his own two hands and a little help from our rain barrel.
We throw our leftovers into the compost pile next to the garden to be turned into mulch. Talk about a life cycle! You grow your own veggies and what doesn't get eaten by you or the chickens gets composted into a rich soil for next year's garden. It's biology at its finest.
If you live in the city, you don't need that much space for your own garden. Many cities have community gardens that local residents can share, and even if you live in an apartment, you can grow small fruits, veggies, and herbs right on your windowsill. There are also small compost bins, available that can be kept right under your sink.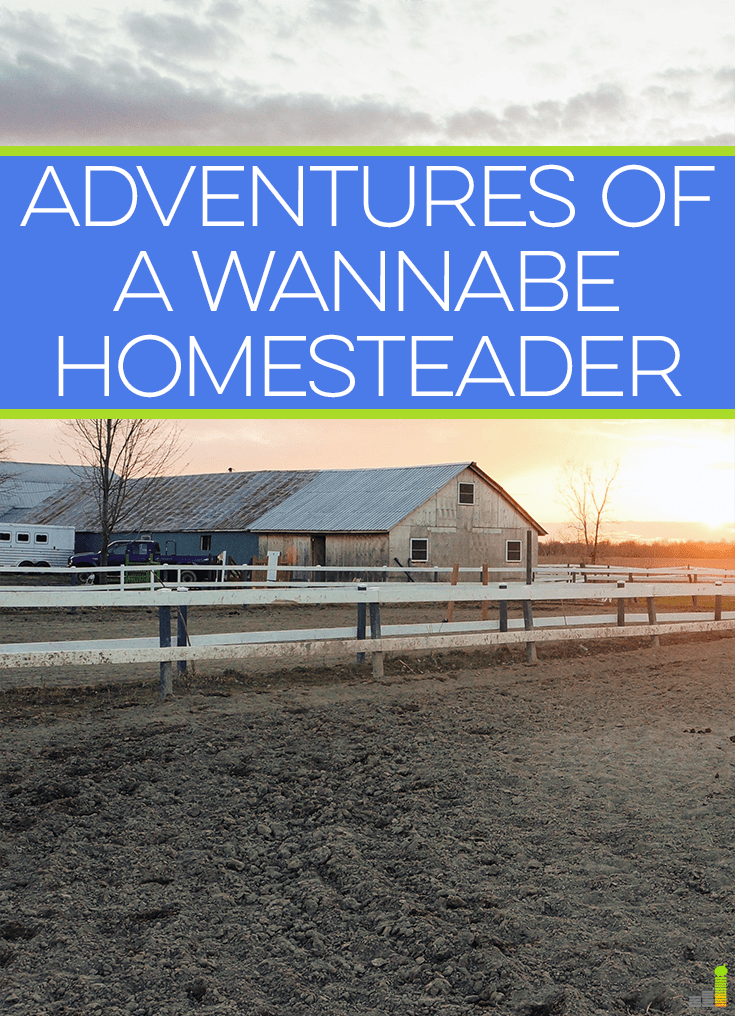 Sewing Isn't Just For Granny Anymore
At the ripe age of 30, I'm an avid quilter and seamstress, skills that I picked up from my granny and mother. It may sound like an antiquated art, but sitting down to hand-stitch a quilt to keep my daughter warm at night makes me feel connected to how people used to live. It's also a great skill to have in order to give your clothing a longer life through mending when things get worn out.
The best thing about sewing is that anyone can do it no matter where they live. All you need is a basic sewing machine and a little know-how. I started on a $50 sewing machine that my mom picked up at a yard sale. It wasn't fancy, but it didn't need to be. I was able to learn everything I needed to know on that machine.
I realize that a lot of people relish city-living and the benefits that come along with it, but right now, I feel like nothing could take me away from my mini homestead in the country. I love watching my 4-year-old daughter don her galoshes in the creek to pick up sand, frogs, and worms, and it doesn't bother me when she runs up to show me a chicken she has wrangled with a big smudge of mud across her cheek.
We're happy here. Things are simple. Life in the country is good.
What's your favorite– country or city? What parts of homesteading would you try? What wouldn't you try? What lost art are you willing to recover? Would you ever keep a few chickens in your backyard if you could?
The following two tabs change content below.
Robin McDaniel
Robin is a freelance writer who chronicles her financial missteps and victories on her blog www.TheThriftyPeach.com.
Latest posts by Robin McDaniel (see all)