Can't Keep Up? 5 Ways to Streamline Your Savings
Posted on August 6, 2013 by John Schmoll in
Guest Post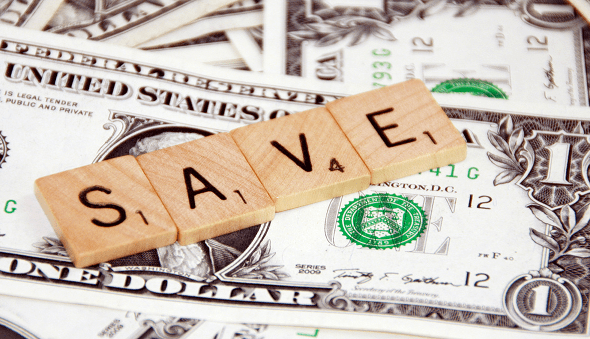 The following is a contribution from Alexa at Single Moms Income. If you're interested in contributing to Frugal Rules, please consult our guidelines and contact us.
There are three types of savers in this world.
The first type gets a Zen-like high from saving a nice chunk of money each week. They pinch pennies, scour clearance sections at the super market, and check their bank balance each day just to see how much money they have accumulated. They often skip out on fun times because they don't want to "waste" money.
The second type cringes at the thought of letting their hard earned money sit in a savings account. After all, they have worked so hard to get it. They figure they might as well spend it while they got it and live while they're alive.
The third type is somewhere in between.
While a good balance is the healthiest, there's no denying that having a regular savings plan is a smart move. If you are struggling to maintain your savings balance, take a look at these tips to help streamline your savings.
# 1 – Figure Out How Much You Can Contribute
The first step is to figure out how much money you can shovel into savings each week. Be realistic. You need money to cover all of your bills and get through the week. How much money can you stash away without making you feel bankrupt?
# 2 – Automate It!
Now that you have your magic number let's make sure it winds up in your savings account each week. Your bank should offer automatic transfers from your checking account into your savings account. Schedule these transfers to be taken out as soon as your check is deposited.
Now you will never have to worry about missing a contribution.
# 3 – Make Your Money Hard to Access
Don't get any checks or debit cards to go with your savings account and don't attach it to your checking account. If you do this you will be very tempted to dip into your savings when money is tight. Trust me on this one, I've been there before.
You could even consider getting an online savings account. It usually takes online banks 2 -3 days to transfer money into your checking account. This will completely prevent you from impulse spending.
#4 – Have a Savings Goal
Attach some meaning to your savings by working towards a goal. Motivate yourself by working toward a specific number. You can also make smaller goals to make saving more fun. You can set up an emergency fund, a car savings account, home savings, fun savings, and don't forget retirement.
# 5 – Don't Forget to Live a Little
You only have one life to live, right? You are on track now to being a super saver so don't forget to reward yourself every once in a while. Opt for a night out with your friends, buy that gadget you've been dying to have, or take your family on a vacation.
Keep on saving and making new goals. With time you will learn to appreciate your new habit and planning for the future will be fun. Just don't forget to stop and smell the roses every once in a while. You only live once!
What kind of saver are you? What ways do you use to super charge your saving?
Alexa Mason is a freelance writer and wanna be internet entrepreneur. She is also a newly single mom to two beautiful little girls.
Editor's note: I love Alexa's thoughts here! I agree with all the points, I really like that she highlighted automating saving money and having a savings goal attached with what you're doing. Both of those can really help with super charging your saving.
Photo courtesy of: 401(k)2012
The following two tabs change content below.
John is the founder of Frugal Rules, a dad, husband and veteran of the financial services industry whose writing has been featured in Forbes, CNBC, Yahoo Finance and more.
Passionate about helping people learn from his mistakes, John shares financial tools and tips to help you enjoy the freedom that comes from living frugally. One of his favorite tools is Personal Capital , which he used to plan for retirement and keep track of his finances in less than 15 minutes each month.
Another one of John's passions is helping people save $80 per month by axing their expensive cable subscriptions and replacing them with more affordable ones, like Hulu with Live TV.
Latest posts by John Schmoll (see all)