Would You Do These 5 Things To Pay Off Debt?
Posted on October 22, 2013 by Cat in
Debt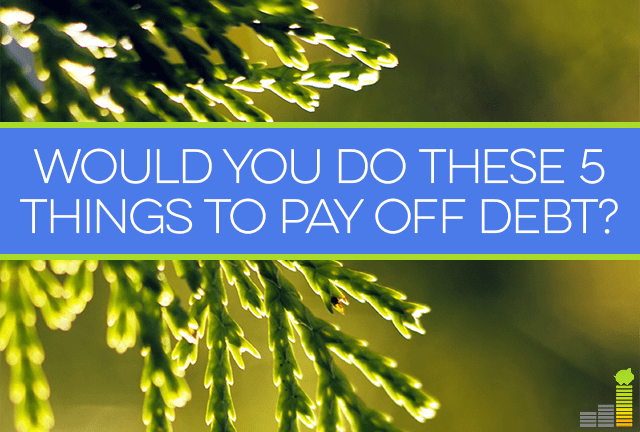 Debt is awful. (That's the understatement of the century!) I mean, I have 6 figures of my own debt that I'd love to see disappear. It would be so amazing for me to just win the lottery or get some gigantic inheritance from a long lost uncle. I swear I'd use it all responsibly and pay off my debt first before going out to eat sushi every night.
Let's be honest, though: that probably isn't going to happen. So then I started thinking of some outrageous ways to pay it all off, and I have to know if you'd consider doing any of the below to pay off yours.
1. Sell a Family Heirloom to Pay Off Debt
If your great, great grandmother gave you a string of pearls that were worth a lot of money, would you sell them to pay off debt? I don't think I could, even if I never wore them. It would just feel wrong!
2. Pose For Playboy
I have no idea how much people get paid to pose for Playboy, as no one has ever made me an offer, haha. However, if you were asked to do it and say they would pay you around $20,000 would you bare all for total strangers? Keep in mind that your nekked picture would be in a magazine forever more. I couldn't do it.
3. Sell Your Sperm/Eggs
Selling sperm and eggs is actually extremely lucrative. You can make about $1,000 a month selling sperm and up to $8,000 for a one time egg donation. While that is a great payout and you'd be helping women with infertility, I personally couldn't do it. I would always wonder if anyone had kids with my DNA, but lots of people have benefited from this!
4. Do a Job You Hate for 5+ Years
Let's say you had to do a job that was really, really lame for 5 years straight, but they promised they'd forgive all of your debt including consumer debt, mortgage debt, student loans, etc. I'm basically saying you'd have to stack boxes one on top of the other all day or scrub dirty toilets for 10 hours straight. Would you do it? I would. Five years really isn't that much time to work at a job you hate. I figure people work for 30+ years at jobs they hate, so why not just spend a few years, get rid of the debt, and live happily ever after?
5. Be A Human Guinea Pig
I recently read that NASA is looking for extremely fit people that they will pay is $1,200 a week to lie in bed for around 70 days. The subjects can take online classes, play video games, etc. They just can't stand up. This research will help NASA better understand how astronauts will be able to handle their mission to Mars in a few years. I would definitely do this because I could still work online at the same time and pay off a ton of debt. The only downside is that I bet a pregnant gal like me doesn't count as someone who is "extremely fit like an astronaut." Oh well, maybe it will work for you!
Would you do any of the above to pay off debt? What's one of the most "extreme" or unconventional methods you've used to pay off debt?
The following two tabs change content below.
Catherine Alford is the go to personal finance expert for parents who want to better their finances and take on a more active financial role in their families.