5 Frugal Ways to Start Investing Now
Posted on November 28, 2012 by John Schmoll in
Investing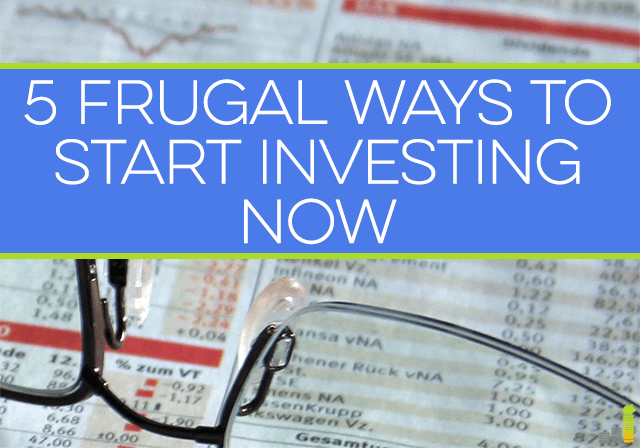 I was a bit lazy over the Thanksgiving weekend and just decided to recycle a post from my first days of Frugal Rules. So, it's an oldie but a goodie.
You know the feeling. Your stomach is in knots, you can't focus on anything productive and you're uncertain about the future. No we're not talking about your love life or the latest stomach bug that's making its rounds, but investing in the stock market. Investing in the stock market can seem scary, but if you follow a few simple principles, you can avoid many of the pitfalls that ignorant investors fall prey to and invest in your future.
Do it Yourself
When you choose to live frugally, a common first step is to look for things that you can do yourself that you might otherwise pay someone else to handle. The fact that we have over 300,000 financial advisors in the U.S. highlights the point that a lot of us like to pass on the managing of our investments to "experts." This is an understandable need if you have a large portfolio or lack the time to actively manage the investing yourself. Money management isn't free and quite often comes with a 1 – 1 ½ percent fee of your assets under management. Advisors, at times, can be compensated based off of what he/she directs you to, whether or not those products are in your best interests. You are the only money manager who has your best interests in mind 100% of the time.
Find a Broker
If you've chosen to manage your own investments, the best place to start is with one of the many online brokerages available. Each one has their selling points and ways to differentiate themselves from each other. Many of the larger brokers now offer things like online bill pay and free check cards that can be linked to your non-retirement accounts to make life a bit easier.
With the hefty competition in the marketplace many brokerages offer incentives such as free trades or even cash to win your business. There is nothing better than free money to make a frugal person happy. If starting investing on your own overwhelms you, check out my Motif Investing review to see how they can make investing much simpler to manage.
Investing Begins With Education
Many brokerages offer free education to help you self-direct your investments. I highly recommend taking advantage of these tools as they can help you determine what kind of investment approach will best help you achieve your goals. Whether you want to go strictly into stocks, invest in low cost index funds or create more income, these educational offerings can help you get your bearings and get you started investing.
Set a Goal
Come up with an amount that you feel comfortable investing. If for example, you decide that you'd like to invest $1,000 then you can start with that. The nice thing about many of the brokerages out there is that they allow you to set up a free link between your brokerage and outside bank accounts to be able to move funds back and forth. So, if you decide to invest $1,000 and don't have all of the funds now, you can move funds over on your selected time frame and accumulate the funds over time.
Leave Emotion at the Door
Investing in the stock market doesn't have to be a gut-wrenching emotional experience. Yes, you will lose money, but you also stand an equal chance of making money. That is the nature of the market, it goes up and down. You're human and thus emotional, but the challenge is to separate your emotions from your investments. We all do it, including myself, but the key is to not let your emotions dictate investment decisions and thus sidetrack your goals.
Investing in the stock market or anything for that matter takes time and research. Don't let fear or lack of knowledge keep you from investing for your future.
What are some of the ways you got started investing in the market?
The following two tabs change content below.
John is the founder of Frugal Rules, a dad, husband and veteran of the financial services industry whose writing has been featured in Forbes, CNBC, Yahoo Finance and more.
Passionate about helping people learn from his mistakes, John shares financial tools and tips to help you enjoy the freedom that comes from living frugally. One of his favorite tools is Personal Capital , which he used to plan for retirement and keep track of his finances in less than 15 minutes each month.
Another one of John's passions is helping people save $80 per month by axing their expensive cable subscriptions and replacing them with more affordable ones, like Hulu with Live TV.
Latest posts by John Schmoll (see all)