4 Simple Ways to Save Money on Taxes Before Year End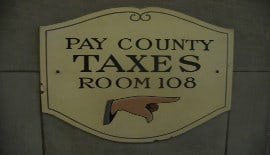 Last week Joe at Average Joe wrote about five tasks that can help you save money in the fourth quarter which got me thinking about how specifically you can do so in relation to taxes. Before I go any further, let me give the disclaimer that I am not a tax adviser and to consult with one before making any decisions related to your specific tax situation. Now that that's out of the way, the motive behind my sharing this post is seeing too many people wait until the last minute to save money on taxes at year end.
My step-father has a saying "Prior planning prevents p#ss poor performance." He calls it the five P's and I hated hearing it growing up. But now that I am on my own I can appreciate the sentiment behind the statement. We have roughly 11 weeks left in the year, so my question to you is how are you going to act to save money on your taxes before then?
Get Rid of the Deadbeats
If you're into stock investing, then you're likely to have some losers. I know that it can be painful to take losses, but if you have some real underperforming stocks, why not dump them? You can take up to $3,000 in losses against your taxes each year, which very well could help you save money on taxes.
If you have over $3,000 in losses then you can carry those losses into future years. This won't help you with losers in a retirement account, but if you have any after tax investment accounts it could potentially help you.
Give to Your Favorite Charity
Giving to a charity is a great thing to do, especially if it helps meet needs in your area or is one that has a special place in your heart. These gifts can be a great tool to help you save money, especially if you itemize your deductions.
Just remember to keep all of your receipts, especially if you give to organizations like Goodwill. Typically if you give over $250 to any one organization they'll send you documentation to go with your taxes.
Keep an Eye Towards Retirement Accounts
Year end is a popular time for people to fund or open retirement accounts. What many don't consider is that it takes time for the accounts to be opened. Many brokerages can take several days to get them opened near year end and going into tax season. If you've not put money towards retirement during the year, this is a great time to do so.
Many IRA accounts, particularly a Traditional IRA, will allow you to write off your contribution which is a great way to save money on taxes. Just don't wait until December 31 to try to open and fund a retirement account.
Save Money For Future Needs
What do you do if you're in the enviable position of having money at year end and no idea what to do with it? You could give to me…I kid, I kid…seriously though, this is a great opportunity to look at what needs should be covered. There are a variety of things that could be done, from building up your Emergency Fund, to saving money for home repairs, to something fun like a vacation.
Another great option is to open or fund a Health Savings Account to save for future medical expenses. Year end is a great time to look at what might be coming up, or seeing where you fell short in the current year and make adjustments as necessary.
This is not an exhaustive list of how you can save money on your taxes, but intended to get us thinking about how we can be frugal when it comes to our taxes. Keep in mind that many of these money saving things must be done before December 31st, so please don't wait around until the last minute.
As a self-proclaimed planning addict, I've already started on many of these things. What am I missing? How do you save money on taxes before year end?
Photo courtesy of: Craig Toocheck
The following two tabs change content below.
John is the founder of Frugal Rules, a dad, husband and veteran of the financial services industry whose writing has been featured in Forbes, CNBC, Yahoo Finance and more.
Passionate about helping people learn from his mistakes, John shares financial tools and tips to help you enjoy the freedom that comes from living frugally. One of his favorite tools is Personal Capital , which he used to plan for retirement and keep track of his finances in less than 15 minutes each month.
Another one of John's passions is helping people save $80 per month by axing their expensive cable subscriptions and replacing them with more affordable ones, like Hulu with Live TV.
Latest posts by John Schmoll (see all)