4 Easy Ways to Avoid Holiday Debt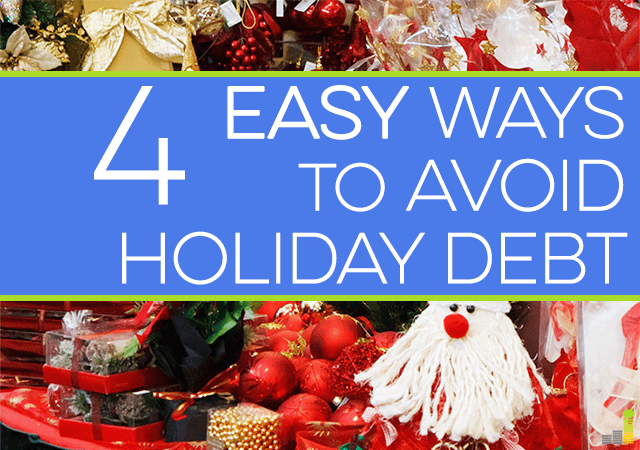 It's hard to believe it, but the Holidays are just around the corner. Halloween is just a few weeks away which means that Christmas is a hop, skip and jump away. What this brings to my mind is shopping and how I can avoid Holiday debt. The average American spends roughly $750 (as of 2010) and this causes me to wonder how much was just put on a credit card with no knowledge of where the money is going to come from.
I am not saying you can't give nice gifts during the Holidays, but what can we do to help avoid Holiday debt? Let's take a look at some Holiday debt tips that I've learned over the years and how we can use them to be frugal and buy Holiday gifts at the same time.
#1 – Plan Ahead to Avoid Holiday Debt
I've written before about the envelope budget system and it can be extremely useful for Christmas shopping. My wife and I pull out money each month to go towards our Christmas budget. The amount we spend from year to year might vary, so we decide on an amount at the beginning of the year based off of the previous year plus any foreseeable changes.
Now, if you don't use the cash system, that's ok, you can still budget and avoid Holiday debt. Maybe it means you put the money aside in a savings account or finding a way to make extra money before Christmas to offset your costs.
My wife and I we actually end up using our credit card to earn points and then just use the cash to pay it off.
#2 – Shop Throughout the Year
I hate to shop, especially during the Holidays; I'd rather get a frontal lobotomy than go to the mall in the middle of December. By shopping throughout the year I can avoid the crowds and make it a much more delightful experience for all involved. The nice thing about shopping throughout the year is that you can take the time to be more frugal in your decision making and get the best gift for the recipient.
This also helps me avoid falling into the Holiday debt trap of all the "deals" offered during the peak of the Christmas shopping season. If you like to be involved in holiday tipping this can be a great time to stock up on gifts you might give out to service providers.
#3 – Look For Ways to Save on Your Shopping
There are deals to be had, if you know where to look for them to help you save money and avoid Holiday debt. My favorite place to do holiday shopping is on the internet. My wife has made an annual tradition of buying a majority of the kids' Christmas presents online on Black Friday. She doesn't have to stand in line or fight the crowds, but can still select things she knows they'll like at deeply discounted prices. Dependent on the retailer, they may have some deals listed on their website or if you like them through Facebook.
One of my favorite sites to use is Retailmenot. They have deals listed from thousands of different stores and vendors. You simply type in the name and if they have it in their database a list of all the known available deals comes up. This is a great way to find what deals are available; I use it especially to find deals that offer free shipping as I hate to spend money on shipping.
Of course, I am sure many people are aware of Amazon's free shipping of items if you spend over $35 or have Amazon Prime. All it takes is a little homework to find some frugal deals and avoid Holiday debt at the same time.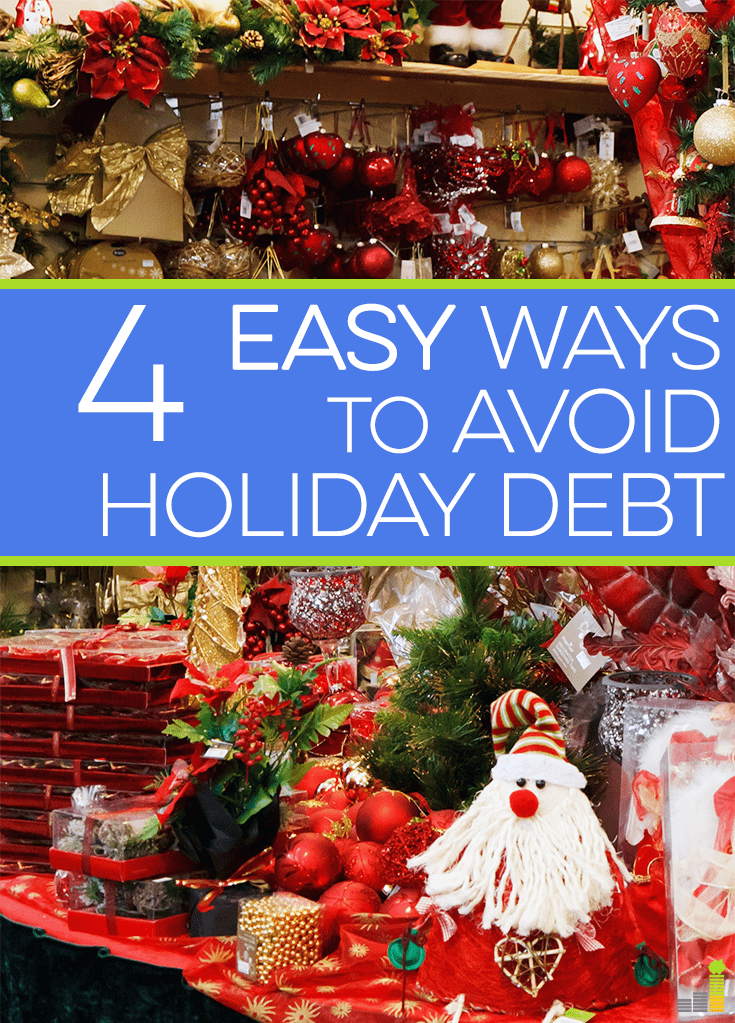 #4 – Holiday Debt Can Linger Throughout the Year
People who just put the gifts they buy on their credit cards tend to let the balances sit there earning high interest for the credit card company. Credit cards in and of themselves aren't bad, but using them to fund holiday purchases is not a wise use of money.
I know that when I had gotten myself into a credit card mess, part of the culprit was years of Holiday debt that was foolishly spent because I felt that I had to. If you know that paying for Holiday purchases is going to be a challenge for you, then look for ways to be frugal while at the same time allowing you to give gifts. Maybe it's something homemade, maybe you limit who you give to, or maybe you organize Christmas caroling followed up by treats at your home afterwards. The point is that there can be alternatives to buying gifts you can't afford which will put you in Holiday debt for months to come.
Buying gifts for loved ones is part of the fun of the Holidays. However, you can it and be frugal at the same time. What Holiday debt tips you follow?
The following two tabs change content below.
John is the founder of Frugal Rules, a dad, husband and veteran of the financial services industry whose writing has been featured in Forbes, CNBC, Yahoo Finance and more.
Passionate about helping people learn from his mistakes, John shares financial tools and tips to help you enjoy the freedom that comes from living frugally. One of his favorite tools is Personal Capital , which he used to plan for retirement and keep track of his finances in less than 15 minutes each month.
Another one of John's passions is helping people save $80 per month by axing their expensive cable subscriptions and replacing them with more affordable ones, like Hulu with Live TV.
Latest posts by John Schmoll (see all)