2016 Goals: Let the Money Flow!
Posted on January 25, 2016 by John Schmoll in
Goals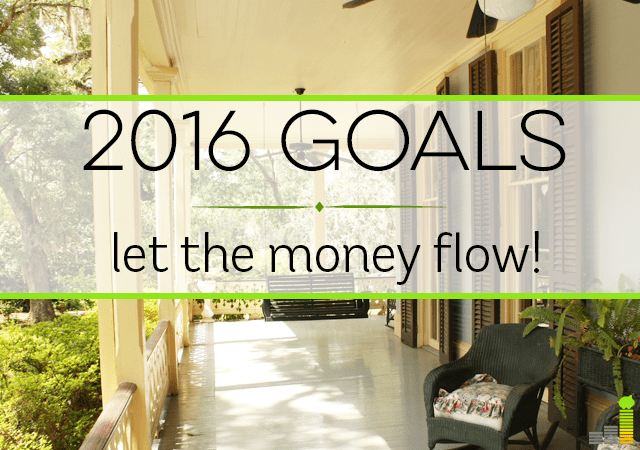 Happy Monday friends. I can't believe we're already several weeks into 2016. It seems the busier we get the quicker time goes by…or, maybe, it has something to do with me getting older. 🙂 Regardless, with January coming to a close in a week or so I wanted to share my goals for the New Year.
I was looking back at goals from previous years and enjoying seeing change and/or growth. Over the years I've come to appreciate the focus that comes with having fewer goals. When I've had more goals it feels like I can never maintain an appropriate focus.
The result? I don't reach as many goals and am overall just not as effective. That being said, 2015 was a relatively good year. We made major progress towards building up a down payment for a new house and I lost 100 pounds on Nutrisystem. Aside from that, we continue to have significant business growth – which I'm incredibly thankful for and will be a continued focus for 2016.
Even though we've run our business for a little over six years now we still get nervous that the wheels will fall off the bus at some point – though that's just my irrationality speaking. With that in mind, we're actively working to continue to grow the business and scale it out more from its current state.
For 2016 I plan to keep building on what we were doing in 2015, so I'll admit that not a whole lot is new. I will also add that I've scaled back my goals a bit after the passing of my Dad in December as I have responsibilities I normally wouldn't have in being the executor of the estate. Though managing the estate, thus far, has consumed a fair bit of time it has also taught me a ton in the process.
You'll notice there isn't a specific and quantifiable financial goal listed. We do have financial goals – maxing out our Solo 401(k) plans, maxing out our Roth IRA plans (assuming we don't hit the income limit) and maxing out our HSA plan but those are expected in my opinion, so it's pointless to list them as goals.
2016 Goals
Move into a new house. Last year was spent building up cash in our Discover Bank account to grow a down payment for a house. We closed the year with a little over 15 percent saved and hope to hit the 20 percent mark by the end of the first quarter of this year. We'll also build up cash to take care of any potential costs associated with fixing up things around our current house and taking care of anything at our new house, moving costs, etc. We're hoping to move by the end of the summer or early fall. When we combine our income efforts with cost savings from things like canceling cable, switching to a cheaper cell phone plan, and other cost cutting efforts, this should be an attainable goal. Though, to be honest, living in a house while trying to sell it and looking for a new home does feel a bit overwhelming to say the least.
Lose another 20-30 pounds. Losing 100 pounds on Nutrisystem was my major win last year. Part of me wants to rest on that win, though honestly, I would feel much better losing another 20-30 pounds. Losing the weight last year, while definitely a challenge, was relatively simple once I got in the groove. Maybe it's being older or maybe it's just plain frustration but the weight doesn't come off as quickly as it did when I was younger. Regardless, it'll be a challenge to reach and much of why I joined a gym last month. I know gym memberships can be a huge waste of money though I know the cost alone will drive me to go regularly to get what I'm paying for. That's also not to mention the fact the membership I got is a month-to-month plan for only $10 per month. That's a pretty good value in my opinion.
Buy a new car. As you can tell, a lot of cash will flow out of the Frugal Rules home in 2016. We had originally planned to save money to buy a car in cash last year though that was reallocated to saving for a house. As the kiddos get older and bigger we're seeing the need for a larger car. We have been putting aside $300 per month in a dedicated savings account to buy a new to us car. We plan to ramp up the savings to buy a good used car in cash by the end of the year. I honestly don't know if we'll be able to reach this by the end of the year given the goal of a new house but am committed to making it work.
Like I said earlier, not a whole lot is new this year as it's just part of the stage of life we're in. If 2015 wasn't busy enough, 2016 looks to be shaping up in similar fashion especially with handling my Dad's estate. We already have a number of trips planned, and will share more on those later, but are looking forward to those and fitting them in with continued growth of the business and website.
What are some of the goals you plan to work on this year? Do you have any fun travel plans for the year? What's new in your corner of the world?
The following two tabs change content below.
I'm the founder of Frugal Rules, a Dad, husband and veteran of the financial services industry. I'm passionate about helping people learn from my mistakes so that they can enjoy the freedom that comes from living frugally. I'm also a
freelance writer
, and regularly contribute to GoBankingRates, Investopedia, Lending Tree and more.
Latest posts by John Schmoll (see all)