2015 Goals Update: Ending the Year on a High Note
Posted on October 12, 2015 by John Schmoll in
Goals
Happy Monday friends! It's hard to believe, but there's only a few short months left in 2015. We've done a lot of traveling over the past two months so time has flown by in the Frugal Rules home.
One thing that I didn't get to talk about while I was on the road was Frugal Rules turning three years old. As I sit back and reflect on what has happened over the past three years it's a bit mind boggling and more than a little humbling.
I had no clue what I was doing when I started the blog and it, along with our business has changed my life. This site has provided opportunities I never would've had otherwise. I distinctly remember getting physically ill whenever I walked into the office at my former day job.
I was miserable, trying to help people but not really able to help them. I knew something had to change. That bitter taste in my mouth just had to go and I was willing to do almost anything to get rid of it. Fast-forward three years and I've replaced my salary, dramatically increased it and watched the business my beautiful wife start explode. I don't know what the point of my reflection is, other than to say that if I can do it you can too. There is opportunity out there – if you're willing to put in the hard work to accomplish it.
With that out of the way, it's time to move on to giving an update on my 2015 goals. As I've been so busy the past few months it has been a little more difficult to stay on top of things, leading me to see I need to up my organization game so things I've prioritized stay top of mind.
2015 Goals Update
Save at least $15,000 for a new to us car. As I shared in the last update, this goal has changed some. We've decided to pursue buying a house instead of buying a car. There are a couple of reasons behind this. With such a significant amount of money, we'd rather throw it at something that will hopefully go up in value – thus knocking out a car for now. The other reason is with growing kids, our current house feels smaller every week. We've run the numbers and hope to move within the next year or so. We have a little over ten percent of the down payment sitting in our Discover Bank account and are dumping money into it each month. We're also still putting aside $300 per month in a different account for a new to us car, but that has lowered in priority.
Do P90X. Like last quarter, this is a big fat fail! I am still exercising regularly though. I do a 5k three times per week and a free circuit training video from YouTube two times per week. It has been a challenge to stay on top of this with our traveling, but I found ways to work out when on the road. I did have a setback, tweaking my knee, a few months ago so I made some adjustments to my routine until it recovered – the joys of getting older. 🙂 Since I lost 100 pounds my goal has been to lose another 20-30 pounds, which will likely be a goal for next year.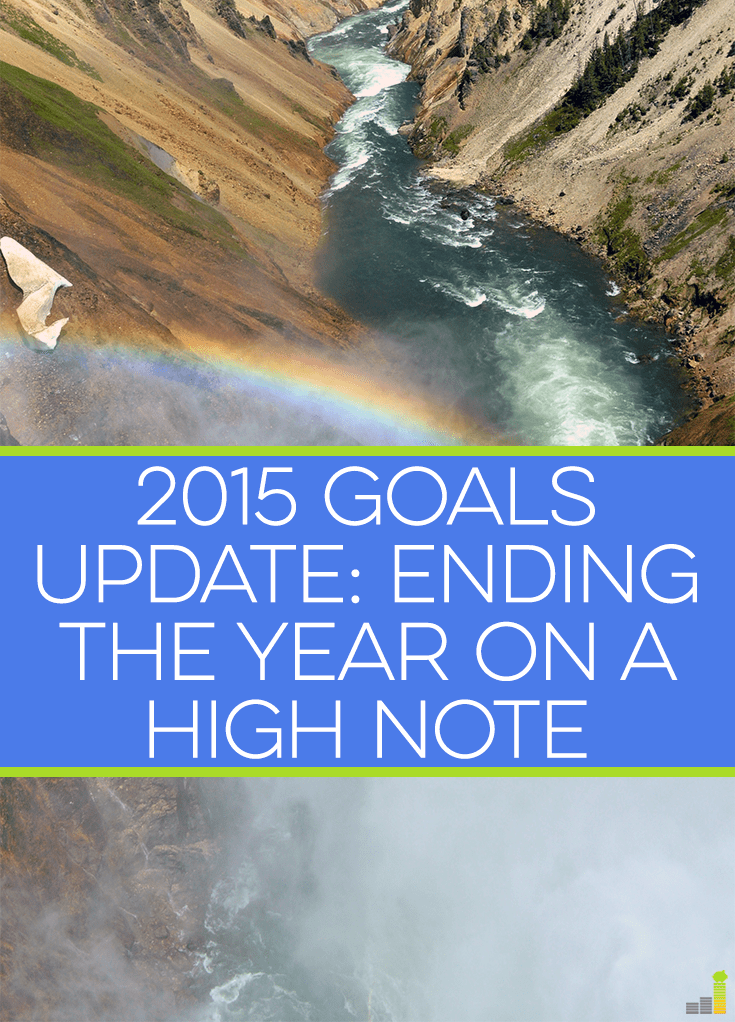 Start and complete a course for Frugal Rules. Like above, this has been another fail. As you may remember, I went the other direction with this and started a niche site focusing on the same topic earlier in the year. However, I'd still like to launch a course at some time for the site. As I get emails from readers asking for help it's obvious that there is need out there and thus an opportunity to help. Time is the issue however and I will likely just need to carve out the time to get it off the ground.
As I look at my goals, and how they've progressed over the year, I'm glad I chose only three goals to focus on. In prior years I had more goals and always seemed to lack focus. I don't feel that's the case this year as it has helped me streamline things and be aware of when things need to change.
Thankfully, the rest of the year shouldn't be as busy as the past few months have been – though it'll still be busy. Looking at the calendar, we have about 12 weeks left in the year. There's still time to make some serious headway on goals, not to mention starting to look at what we want to accomplish next year. 🙂
How have the past few months been for you? What's new in your corner of the world? What's one goal you're working on to accomplish by the end of the year?
The following two tabs change content below.
I'm the founder of Frugal Rules, a Dad, husband and veteran of the financial services industry. I'm passionate about helping people learn from my mistakes so that they can enjoy the freedom that comes from living frugally. I'm also a
freelance writer
, and regularly contribute to GoBankingRates, Investopedia, Lending Tree and more.
Latest posts by John Schmoll (see all)