2015 Goals Update: Keeping My Head Above Water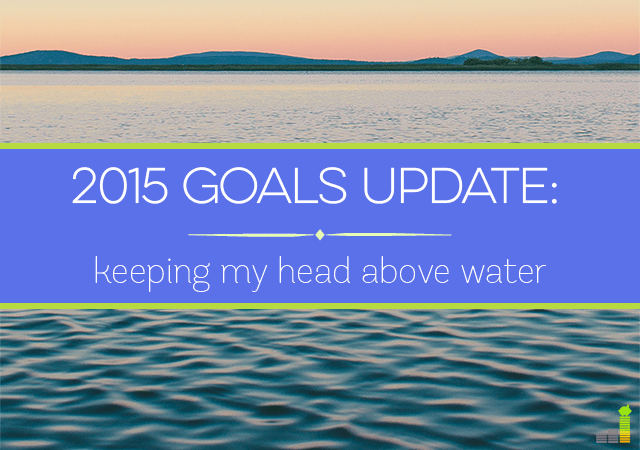 Howdy friends! Is anyone else wondering how on earth it's mid-April already? I know I am. Looking back, it feels like the past four and a half months have gone by in the blink of an eye.
As you can tell from the title of the post, this year has been one of struggling to keep my head above water. On one hand, it's an incredibly good problem to have. Our business has been growing by leaps and bounds which is awesome to see as it's really starting to form around the vision I've had for it over the past few years. Moving from dealing with fear of quitting my job to seeing our small business take off is very exciting and often makes me wonder why we waited so long. But, as my lovely wife says, I had to be painted into a corner where I saw no other option but to take the leap.
Along with the growth of our business, we find ourselves seriously needing to consider whether or not to change from a LLC structure to an S-corp. There's nothing that would really change, so as I understand it at least, in terms of how we manage things from day-to-day. The main changes would be how we would be viewed as a tax entity; we'd be pulling salaries from the business and would have new administrative responsibilities to either handle ourselves or outsource.
Thankfully we can have our CPA manage most of the administrative functions, which does add cost, but would not be something I or we would have to manage daily. The main benefit would really come in as a way to save on taxes. Of course, if we can send less money to Uncle Sam and keep more of it to ourselves to help us save for retirement and other investments then I'm going to do it all I can.
Anyway, that's a long explanation of what's going on in the Frugal Rules home. When you add the growing business to what I'm doing with the blogs, growing kids, freelance writing and other responsibilities, it gets a little nutty and a struggle to keep my head above water. I realize it's very much a first world problem, though I'm thankful to be seeing the growth we are and am doing my best to squeeze all the value I can out of a day so I can spend more of it with my family and not tethered to a computer. Because, let's face it, there would be no value in it if I didn't make my family my first priority.
With that out of the way, I thought it would be a good time to take a look at where my goals are at for 2015.
2015 Goals Update
Save at least $15,000 towards a new-to-us car. I'd rate this one as a pass. We currently have about $7,000 sitting in our savings account at Discover Bank. Since we're about a quarter of the way through the year I feel good about hitting our goal. Ideally, I'd like for us to buy a newer car at some point next year and will likely become a one-car family for a bit of time prior to the purchase so we can free up more money for the purchase as we plan on buying in cash. We're also starting to save some money for a down payment for a new house purchase, as we want to be able to move in the next few years and plan on having at least 20 percent to put down. Thus far in the year, I'm feeling really good about this goal.
Do P90X. I shared at the beginning of the year that the thought scared the crap out of me. So, have I started it? That would be a big fat no! However, it is not fear that has held me back. You see, I broke a toe about three months ago! I had apparently kicked something by accident somewhere in the house and didn't think much of it. A few days later, it felt as if someone was trying to rip it off any time I put any sort of pressure on it. After talking with a Physician's Assistant friend of mine, he said I had broken my toe. For about 4-6 weeks it was all I could do to walk without being in agony – and that's with the toe being taped to another one. Suffice it to say that P90X has been shelved for the time being as I can only just now walk around our neighborhood with having only a minor sensation that someone is trying to rip my toe off. The purpose behind this goal was to kill the rest of my weight loss goal of 100 pounds. Thankfully, I'm at 92 pounds down lost on Nutrisystem, but seeing as I have the metabolism of hot fudge sauce not working out has not been conducive to hitting the goal. Somehow I've managed to lose another nine pounds along the way so I'll choose to be happy with that. 🙂
Start and complete a course for Frugal Rules. I'm not going to lie about this one – it hasn't happened and thus I'm giving myself a fail. In fact, I've actually gone a different direction with this and am in the late stages of launching a niche site that's largely focused on the same thing the course would've been on. Yes, I know I'm barely managing to keep my head above water but hopefully with it being a niche site it won't require a ton of extra work – in the long run at least. I'm not sharing what the site is on yet, but if you'd like to know just contact me.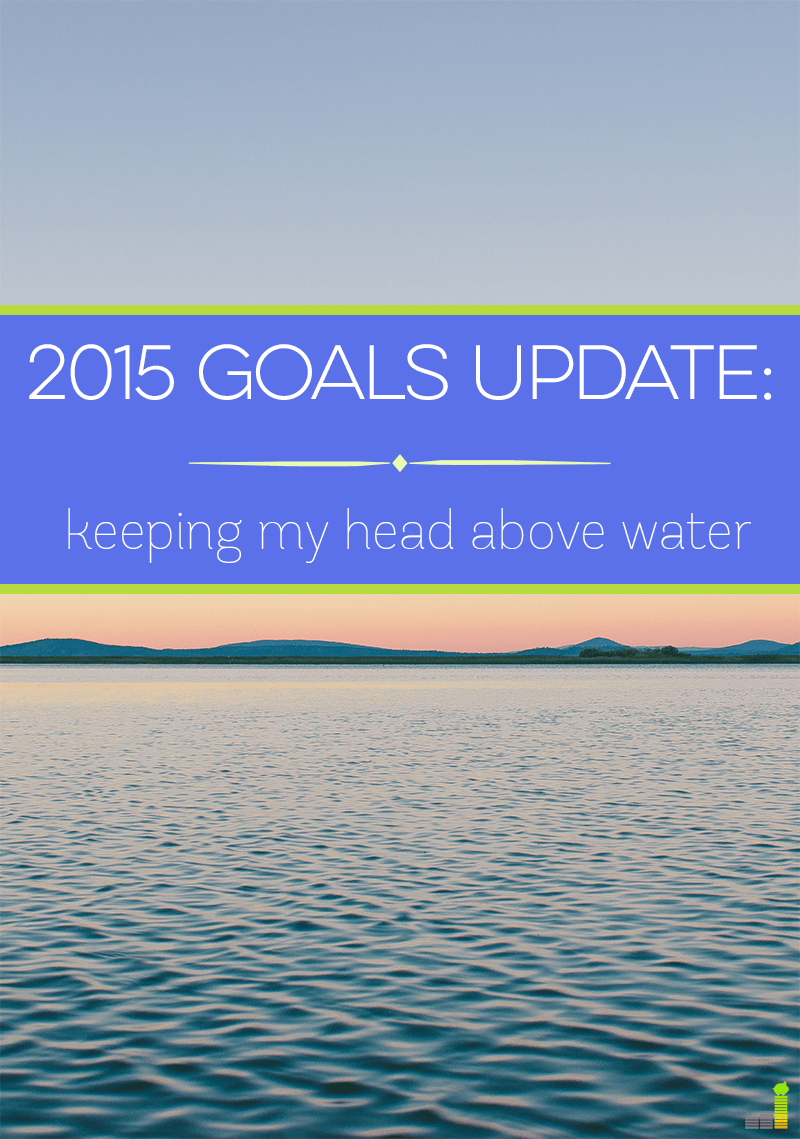 So, there you have it. Overall, I'd rate it 50/50 with regards to my goals this year as one of them has really proven to be out of my control with the broken toe. When you add in the growth of our business this year, I'm fairly pleased with how the year has gone thus far and am excited to see what the rest of the year holds. I'm also thankful that I saw the wisdom of having fewer goals this year so as to have a greater focus.
We've also maxed out our Roth IRAs and have begun setting aside money for our other retirement accounts. With the likely shift to becoming an S-corp that will also mean we'll likely be moving from SEPs to Solo 401(k)s which should substantially increase the amount we can put away for retirement.
The rest of the year is going to be a whirlwind I fear as we're coming up on our busy travel season. Mrs. Frugal Rules and I go on our surprise trip next week and she wants to take a short celebratory trip once I hit the 100 pound lost mark, which will probably end up being Chicago on points. We also found out a few weeks ago that we'll be going to NYC for 4-5 days in June thanks to a client and have a few other trips planned for the rest of the year.
With that in mind, my main goal for the rest of the year is to take things one day at a time and maximize it for all it's worth.
How are your goals for 2015 shaping up thus far? Do you have any fun trips planned for the year? What's new in your corner of the world?
The following two tabs change content below.
I'm the founder of Frugal Rules, a Dad, husband and veteran of the financial services industry. I'm passionate about helping people learn from my mistakes so that they can enjoy the freedom that comes from living frugally. I'm also a
freelance writer
, and regularly contribute to GoBankingRates, Investopedia, Lending Tree and more.
Latest posts by John Schmoll (see all)